Every year we kick off the new season with our annual open house and seminar. This year because of the remaining pandemic precautions, we're doing something a little bit different. So, let us introduce our 2021 Virtual Open House and Webinar.
Don't miss this opportunity to kick off the season right, like we do every year - except, virtually this year.
The event will take place over several days beginning on Tuesday March 2nd and running until Sunday March 7th in its entirety. It will consist of live webinar presentations with Q&A sessions in place of a live audience presentation like previous years. You still get access to the areas leading dessert suppliers, wholesalers and vendors. Be sure to visit their booths and contact them should you need any assistance with any supplies or products. We'll also have our ice cream lounges set up where you can view videos and have a real time chat with others within the industry.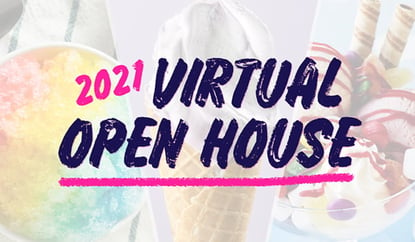 Webinars Topics include:
Get The Scoop - Marketing Your Dessert Business For Success.
Master The Swirl with Homemade Product Production - How, What, Why, When?
Shake Up Your Team! Transform Your Staff into Assets for the Brand.
Topping Off Your Operation - Choosing and Adding the Right Equipment.


In addition to our live webinar and virtual show we are also
booking our one-on-one free Master Classes. These private equipment and product demonstrations Run from Thursday March 4 through Sunday March 7th. You can call 609-566-9330 to reserve a spot or click the link below.
Private Showings Include:
Live equipment demonstrations
Hands on product production
Professional business analysis
Scoop, Shake and Swirl with the Masters!
Webinar and Virtual Show

Tuesday, March 2nd 2021
Wednesday, March 3rd 2021

Access to vendors and ice cream lounges as well.

Sign up and be entered into a drawing for a $250 parts certificate

and a $1000. equipment certificate.

One-On-One Master Class and Product Demonstrations

Thursday March 4, thru Sunday March 7, 2021





Sign up and get 5% OFF any equipment purchase.

Plus $100 part credit.
To learn more about the agenda, speakers, vendor partners and more...click below