To say this has been a strange season would be a complete understatement. It's the beginning of June and it feels like it's the end of December. We have gone from starting up the season and taking off at 100 mph to a complete standstill and stop. And now, for a lot of us, we are back to 100 mph again. The older we get, the less stops and starts we have left in the tank!
From a personal standpoint it has been difficult for us all. Not only do we have to deal with the stress of our business and the shut downs and unanswered questions, but we also have to work through the stress of life these past few months: the worry and anxiety that surrounds a COVID environment. And whether your escape was restaurants, sports, charity, social gatherings, faith, travel, your children's activities, etc….they were all gone.
But over the past month things have started to trend in the right direction. Many dessert operations have seen a surge in business. Our customers had strong months of May and June is starting off even better. As the world gains more confidence in venturing outside, we are benefiting by offering a simple, family friendly treat. And while all other 'escapes' may still not be available, ice cream and desserts can help fill the void until they are. But how do we navigate and reopen and possibly reinvent ourselves during these times and beyond?
Stay Safe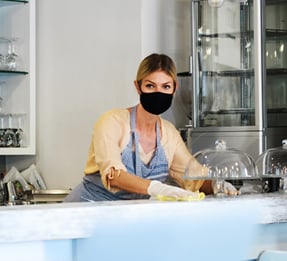 First and foremost you cannot take hope for granted. Just because things are opening up does not mean you should abandon all safety precautions that got us to this point. The public's tolerance to masks and social distancing will start to lax. People have their opinions and some may be that we are past the worst and can rush back to an old status quo. Well as a business owner you have to maintain precautions and continue to provide a safe environment for yourself, your employees and your customers. This should continue to include social distancing measures along with masks and coverings. Sanitizing stations, hand washing requirements, limiting contact, etc. should all continue for the time being. If customers don't adhere to the standards you set then they simply have to find somewhere else to go. Now we have thousands of customers with stores and I have heard of hardly any confrontations regarding this. But as the season progresses and the public's expectations shift, it may be harder to enforce your rules without getting sticky. Be aware of it. Post signs on your storefront. Update your website and social media. And ensure that your staff knows how to handle any situations that may come.
Deliver Delivery
You have to adapt to delivery and call ahead options. I'll refer you back to our previous blog for some more information. Whether COVID hit or not, this was an avenue we were pushing for our entire customer base in 2020. This crisis has just advanced the importance of these options and they will soon become a necessity rather than a luxury. Now every store is different and, depending on your store type and operation, you will have to look at how to best maximize delivery and/or call ahead. We can certainly help with that evaluation. However, I strongly recommend you take the steps.
Assess the Damage
What has COVID cost your business? Have you lost employees that you won't get back (assuming they were the ones you wanted back)? What was the financial damage? Have you lost anything that you can't get back? As you begin to reopen and start to launch, you need to truly assess what you have learned. For example, do you need the same hours you used to have or can you shorten those hours. Not necessarily because things are slow or anything COVID related, but because you always should have shortened your hours but never did. Same thing with pricing, staffing, training, customer servicing and all the other 'ings' that help your business engine turn. You need to take a hard look at your business plan and strategy and figure out what to do better. If complacency had set in it better be gone. This crisis should have scared you as a business owner but it should have sharpened you as well. Don't take anything for granted and look for ways to build a better mousetrap in every corner of your operation. What was broke can be rebuilt. What was weak can be reinforced. And what remains strong can be rejuvenated and realigned to be even stronger.
Innovate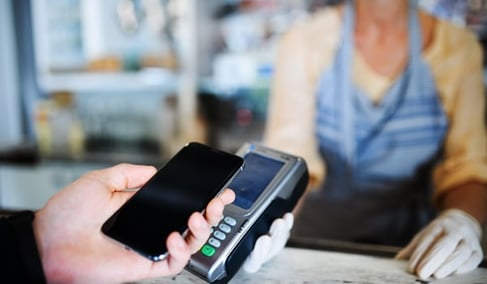 Going along with our last point about sharpening is innovation. Look around at all the other businesses out there and how they may have adapted to COVID. These businesses may be totally different than what you do and even have no actual correlation. However, learning from them and cherry-picking little things can possibly help your business now and in the future. It's time to innovate. Products. Procedures. People. As I write this blog I'm motivated to look at my business and see how we can adapt and innovate what we do. You need to do the same. Not only will you see the benefits to your bottom-line but you will also have fun doing it.
Give Back
Obviously the past few months has changed us all in some way, shape or form. Those who have protected us on the front lines during these times cannot be thanked enough. And unfortunately there have been too many that have lost their lives or the lives of someone dear to them. Well perhaps in addition to our prayers, we can give back more to them. Maybe a day to give back to the doctors and nurses and other essential people who have helped your community navigate this crisis. Encourage people gather to remember their loved ones lost and enjoy a free treat on their behalf. It may sound trivial but you'd be surprised how important ice cream and desserts were to some people and their families. Sharing these moments and stories can be therapeutic for everyone involved and inspire hope. Even on a lighter side, reward the local graduates who missed out on so much with some product. In the end, the goal is to create togetherness, happiness and hope in your community. Get people smiling and you will smile as well.
To wrap up this blog I just want to send a note of appreciation to my team here at Sentry. During these last few months they have truly amazed me with their attitude, work ethic and dedication to our brand and our customers. They are my family in this family business I am blessed and privileged to get to work with them on a daily basis. To: Angelo, Bob, Bonnie, Bud, George, Janelle, Jennifer, John, Kyle, Mike, Steve, and Tom….thank you!