Most soft serve ice cream shops have one machine that runs both chocolate and vanilla flavors. While this is great to serve your core products, it leaves little room to grow. If you want the opportunity to create an entirely new revenue stream or create additional products to boost profits, then you'll want to add a secondary machine into service. Not only can this additional machine act as a backup to your core flavors of chocolate and vanilla, but it offers you an opportunity to make new products and serve a new crowd whether that be candy blend-in products, novelties, or a vegan/non-dairy option.
In a previous blog, Ditch the Dairy, we covered why vegan products are big right now and how you can take advantage of them. If you had an extra machine in your shop specifically for the purpose of a non-dairy or vegan product, there's an opportunity to gain customers instead of losing them. Having an extra machine gives you more and different product options to offer customers, thus more opportunities to generate profits. Not only can you draw in new customers from the vegan crowd but you can keep the customers that come in that just can't have dairy. Let's say a party of five walks into your store and just one out of those five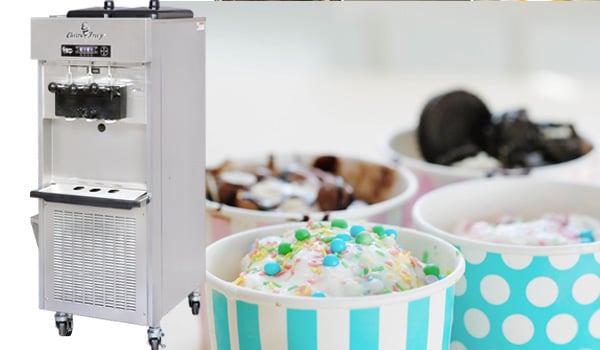 can't have dairy. It's likely all five customers will leave without buying anything because there's no non-dairy option for that one person. On the flip side, if you do offer a vegan or non-dairy option then the four people will buy a product and the fifth person will buy the non-diary option. So, by offering this one option on your menu, you've not only kept all five in your store but you got the sale as a whole group as opposed to them just leaving altogether.
One of the most common objections we hear is about the cost and complications of adding another machine. Actually, getting another machine doesn't need to be expensive or complicated when you have machines like the Electro Freeze SL and SLX models. Not only do these machines have a small footprint (you need about 2 feet of space) but you only need one single electric line. Better yet, these models are easy to maintain and clean.
As for costs. Machines like these are very affordable with our lease purchase options and with the profits, you can generate, the machine will pay for itself. For example, just one cup of vegan frozen yogurt can sell for around $4.00 depending on your area. The product cost you incur to make it is only about $.50. That averages out to $3.50 profit per cup. If you sell just 3 of those a day, you'll have covered the average lease cost of the machine. Anything you sell after that is all profit. For a little upfront investment, the profit return could be huge.
Having another machine for secondary products can help with novelty product production, act as a backup chocolate and vanilla machine or help you add vegan/non-dairy options to your menu. If you would like to learn more about machine options or our lease to purchase options, contact us and we'll be happy to help.