Between our 3 Minute Tips, Recipes For Success videos, and writing our Frozen Dessert Success blog we've talked a lot about creating homemade products. We've addressed this topic in the past and will continue to do so in the future because of the incredible level of success we've seen with so many of our customers.
The success these customers are seeing is a result of them taking their own business and making their own creations and products. Whether that product be gelato, Italian water ice, hand dipped ice cream or novelty items.
Creating a homemade product based menu will boost your sales. People love, and are willing to pay top dollar for a homemade / handcrafted, quality product. It's just more appealing to consumers.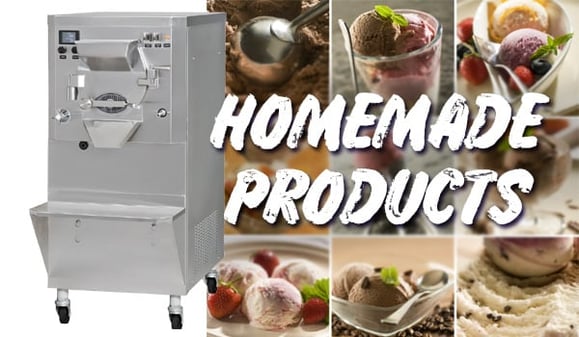 You can watch our previous blog and 3 Minute Tips on creating your own brand and products and the profits you make from them but for now we want to focus on the success of our customers who went from selling ice cream wholesale to making their own ice cream. This move has taken stores to the next level in their business. Many of them, and each is different, have increased sales 20-30-40- and even 50% over the previous years. They were happy making money with their wholesale product. Now, imagine how much happier they are with the increased profits.
One of the objections we always here is the lack of know how. But the good news is, it's not hard. We can teach you how to do it. We have the resources throughout our website and we can provide all the equipment and guidance. We can hold your hand through the whole process if need be. We can teach you how to implement the products, how to make the products and we can even give you recipes to make on your own.
So, if it's so easy to do and you can increase your sales and make more money, why isn't everybody doing it? Well, in most cases, there are limitations. Space and time are the two we encounter the most initially. However, these are things we can help you evaluate and understand as most limitations we encounter are not based in reality, but based in the mind.
Adding homemade products really help you separate yourself from the competition. If you think about the frozen dessert or ice cream industry, you'll find there is competition everywhere. Shopping markets sell ice cream, convenience stores sell ice cream, the neighborhood ice cream shop sells ice cream and now there are online outlets that ship ice cream to you. If you're not creating your own brand or your own products, you're allowing your competition to takeover your own customers. When you create your own brand and make your own product, you control the quality, you control the consistency and you control the brand where the customer can only buy from you.
If you want to take your store to the next level and are ready to grow then you should consider making your own homemade products within your store. It allows creativity in your business that will really help your sales.