This month we talk about take home and delivery and increasing your core products through these entities. With the onset of covid at the beginning of 2020, we had a lot of customers and frozen dessert stores that had to think on their feet and take advantage of delivery services just to stay in business. But now as we have transitioned to a post-covid business mentality, it's about how to continue to leverage these sites to increase our sales.
If you're not on Grub Hub, Uber Eats, or Door Dash, you need to get on one. We are not here to endorse any in particular or say which one is the best but we've done previous blogs and 3 Minute Tips on how to integrate these into your business. This is really about understanding the potential of these items. What can you deliver in your store? Anything. For years we would talk to customers and hear why they can't deliver ice cream. The objection of the ice cream will melt is gone. Why? Because a countless number of other stores have already proven it can be done. Hundreds of stores in our service area have started delivering ice cream products. If you can deliver water ice, soft-serve ice cream, hard ice cream, and even milkshakes...why are you not taking advantage of it and doing it?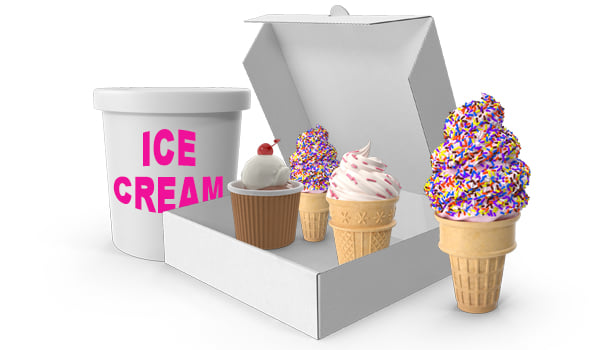 Create a take-home section in your store. Again, we've done many 3 Minute Tips and blog posts about creating novelties in your store. Now that you have your novelty section, you have your core products, develop a bottleneck that leads to the delivery service and will increase your sales. During the pandemic, we had to take the product to the people because the people couldn't come to us. We've had too many customers that, now that the people are coming back to their store, they forgot all about taking the product to the customer. Use both entities to ballon our sales and blow up our store with potential.
How do we do it? Grub Hub, Door Dash, and Uber Eats are great places to start. There are websites out there, that make millions of dollars and all they do is deliver pre-packaged ice cream to stores. You may not make millions of dollars, but if you can make thousands and thousands more extra, we know you will be happy. With these third-party apps in mind, create a menu that makes sense to work with these apps. You don't have to sell all your menu items, just cherry-pick a few and maybe piggyback the most profitable items and popular items to be able to sell and deliver to your customers. If you're doing homemade ice cream, great. Prepackage that ice cream into pints, quarts, ice cream sandwiches, ice cream cakes, or sundaes in a box. Try not to do it on a cup by cup basis but rather on a quart basis. Maybe do an offer like buy 2 quarts and get 1 free. You can put it in premium packaging, you can charge a premium price and you can deliver large amounts of product at a time to maximize the transaction both for the customer, the driver, and your store.
The key is, take your core products, take what you're known for, leverage the delivery services, and continue to blow up your sales by getting it out to the customer. As we continue to transition to a post-covid world and we have customers coming in, don't forget, we can still deliver the product to them. Last but not least, labor has become more difficult to get and keep. With the onset of bringing a product to the customer, we're using someone else's labor to deliver our product. Keep that in mind.
If you want to integrate this into your business and you have problems, then call us at 856-853-1967, we're always here to help.