Another year is coming to a close. That means it's the perfect time to evaluate how your equipment held up during the season and determine whether it's capable of doing it again next season. Additionally, what are the new equipment advances in technology and concepts that can help grow your business.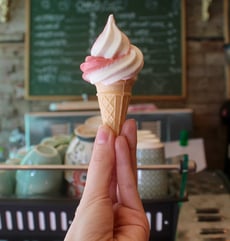 Every year around this time we try and encourage every business to evaluate the performance of their current frozen dessert equipment to determine whether it's time to upgrade or invest in a new piece of equipment.
It's not just about evaluating a machine's age and determining whether it's worth it to keep investing in - it's about making sure you have the right equipment for your store, your concepts and your volume. An investment into a new piece of equipment is not something to be taken lightly and it's not something we push our customers into. That is why we use an equipment report card to determine whether your equipment is meeting the demands of your store.
Though the Electro Freeze machines that we sell and service will last 15-20 years or more, they eventually get to a point where they need to be upgraded. Maybe it needs a repair that doesn't make fiscal sense doing at your machine's advanced age. Maybe you need a higher capacity machine or maybe you need a different machine to compliment the products you're selling. You may also be interested in new technology to capitalize on new trends and additional flavors or concepts. Or you can simply need to upgrade efficiency and operations. There are numerous reasons you may need to upgrade and it's not just about how much a single machine is breaking down or how old it is.
Equipment Report Card
Our equipment report card takes into account many various aspects of your store in addition to the age, condition and service of each particular machine and determines if it makes sense for you to consider an upgrade. Certainly the age, condition and service record of the machine are determining factors in this consideration, but not the only one. We also determine whether the machines are able to satisfy the needs of your store by meeting the volume, product line, capacity, efficiency and other factors. This report can help you and us determine what the right fit and solution is. Maybe you don't need to replace a machine but rather add an additional machine to take the pressure off the other one and meet demand. We want to ask you questions to help us offer a solution that will put more money into your pocket not just take money out.
Capital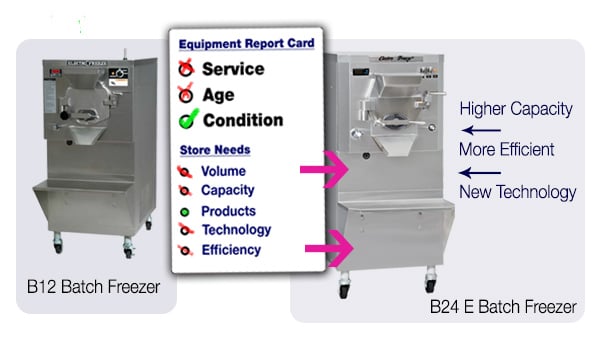 A new equipment purchase can sound daunting from a financial perspective. However, there is good news - there's never been a better time to upgrade or purchase new equipment. Within today's environment, there are a lot of government based programs available that are giving business owners capital to invest in equipment. Even better news - we here at Sentry Equipment have many programs that can help you as well. We offer lease to purchase options, 90 defferred payment options or seasonal lease options. All of this information is available to you if you want to contact us.
The Process
When we look at end of season equipment upgrades or purchases the first thing we want to determine is whether it's the right thing to do for your store. If an upgrade is right for you, we next want to make sure it's the right piece of equipment for your store. Finally, once we determine that it is right and we know the right piece of equipment, we want to find the financing options or programs that fit you the best. Remember, purchasing a piece of equipment is an investment, one which can be used to offset some profit in your business by writing it off in your taxes. Use the end of this season to help yourself next season.
If you're ready for your equipment report card or need information on our lease/purchase options, then just contact us here to let us know.