So here we go again. Another dessert season is upon us. It was Groundhog day a week ago! No literally, it really was. Good ole Punxsutawney Phil saw his shadow and now there are 6 more weeks of winter. That's bad news when you own an ice cream store that depends upon warm weather. But it's good news if you have procrastinated on your winter projects. Now you have 6 more weeks to get moving on that long laundry list of store improvements and plans. Wonderful!
But where is the energy? How do you go from the winter blues to the spring moves? How do you ramp the mental engines to start this season off the right way? Well, here are some tips to energize your mind and your store for 2018.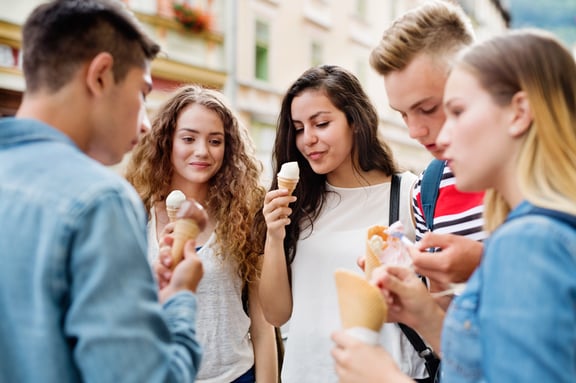 Add a new product. Nothing puts a little pep in your store's step like some new products. Whether it's a new sundae line, new flavors or a foray into a new expanded menu. Adding new items to your operation can help motivate you and your staff but it can also give a boost to the bottom line by inspiring your customer base. To truly make this tactic fruitful, put some thought into it. Don't just add a boring topping or come out with one new flavor. Get creative. Take a look at what's happening in other parts of the country in the world of frozen desserts. Talk to your vendor partners and, ahem Sentry, learn the latest trends. Talk to your staff and get their opinion. Be daring and do something to animate your menu for your guests. They have been waiting all winter so don't just come back with the same old stuff.
Have a company event. Most of my customers have an end of year thank you for their staff but very few do a beginning of the season event. Think of it as a preseason kick off. Your returning staff members will appreciate the gesture and your newly hired employees will get a good welcoming to the team. Most importantly, it gets you and your group together again after a layoff which will help strengthen morale. Your team has a huge impact on the success of your store. Motivating them prior to the season puts your sales potential in a better position and a focused staff helps you as an owner work more "at" the store than "in" the store. Do something fun and get out of your comfort zone – a bowling outing, escape room event, even axe throwing. Remember that the way your treat your team determines the way they treat your customers.
Create a marketing plan. What is your marketing strategy for 2018? Do you have planned rollouts of flavors and possible advertising strategies? If the ideas are in your head only they are not real. Create a marketing plan! Putting it on paper will help you execute the plan properly. Spending time on the plan will help you think about your store. The thinking will create energy and the energy will create ideas. In the end those ideas should lead to increased sales and revenue. Be thorough and strategic. If you need help – get help. Here at Sentry we have helped many customers create a marketing plan that fits their budget and their market.
Get some fresh looks. Have you sat back and taken a look at your store lately? Are you proud of what you see? As owners we sometimes get so inside our businesses that we lose touch of what our customers see when they walk in the door or walk up to the window. Aesthetics matter. The atmosphere your store provides your customers is some of the most powerful marketing you can do. If your store screams, "I'm from 1992" but you aren't going for the retro look, well you may have a problem. If your walk up windows are filled with faded ice cream pictures and the kids in those pictures are now senior citizens, well it may be time for some updating. Fresh looks don't have to just pertain to your store. What about some fresh uniforms? New colors or visors or aprons can change the experience for guests and team members alike. A new outside sign or inside point of purchase material can help too.
Now for the lightning round of quick ideas!! Plan a grand welcoming for the early season. Do charity work in the community. Meet with the community connectors: PTA, religious leaders, sports associations, etc. Put a countdown clock on your social media platforms. Or simply work on yourself personally to help get you going.
Rejuvenating yourself after a winter off is not always easy. However it is truly necessary if you want to help ensure a successful season. The weather plays a big part in our early season numbers – I get it. However, we do not control the weather (damn you Punxsutawney Phil!) In the end, the weather isn't running your business – you are. And crucial to early season success is the energy you bring to February and March. A good foundation can lead to a big year.
As always Sentry Equipment is here to help in any way possible. Let us know if you have any questions or need help. Be sure to visit our Open House and Seminar event on March 3rd and 4th, 2018 at our office in Blackwood, NJ. For more details visit the events page at sentryequipment.net