Every season we get one. A phone call from a customer with a down machine all because they didn't change a part that costs a few dollars. Sometimes it's an easy fix. Sometimes it's quite an expensive fix. Though it isn't the most exciting topic, it is an essential topic if you're running a frozen dessert store. At Sentry we're always trying to educate our customers and right now we are featuring a campaign on the importance of having these replaceable parts on hand to switch out.
It's a machine and machine parts eventually wear. It doesn't matter what type of machine it is: a car, a jet, or a frozen dessert machine. They all have parts that need to be replaced because of wear and tear. Now, how often you need to replace your frozen dessert machine parts depends on what volume of product you're producing. What parts you need to replace depends on what machine you're using and what product you're making.
Though each machine is different, with different parts, there are a few general categories of parts for frozen equipment that you'll want to consider. Let's review some of the parts you should always have on hand at your store.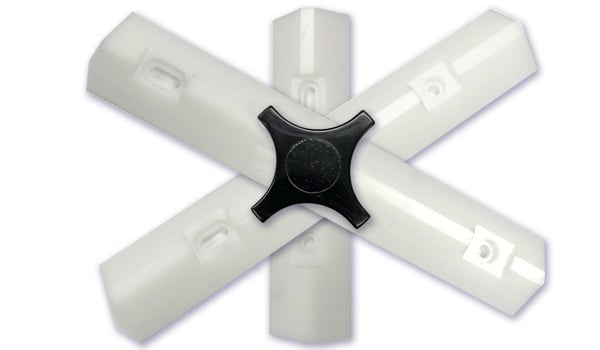 Whether you're serving soft serve, shakes, slush or have a batch machine, the blades are the lifeblood of the equipment. Blades control yield, help to control overrun and in the end help with your profit margins. Blades should be inspected every year and depending on what your volume is, perhaps changed every season. Blades can play a crucial part in profits because they can help eliminate any waste. You want those blades as close to the cylinder as possible in order to scrape every last bit of product out of the chamber. Worn blades can leave behind excess product and also produce a product that is not as smooth, creamy or consistent as it should be. So it behooves you to inspect and replace them as often as you can.
The next most important replaceable part after the blades are the mix transfer hoses. The mix transfer system in the pressurized Electro Freeze machines helps the product mix get to the bottom to the top of the machine and the mix transfer hoses play an essential part in that. There are several things that could go wrong when it comes to hoses but the most expensive problem comes when it causes undo stress on your motors through a clog or wrong balance of mixture. Any hose carrying a liquid can also spring a leak. And though it wouldn't be the most expensive or time consuming repair, it will cause a real mess. Again, which hoses you need will depend on the type of machine and how often you change them depends on the volume of your store. However, we wouldn't disagree with someone who wanted to change their mix transfer hose every single month, even if they're doing low volume.
Head Orings, seal the gaps to your head so no product leaks. have them on backup. Even though we recommend a yearly change, your store might be different if it's high volume.
Plunger Orings are the smaller rubber rings in the plungers. Replace them every six weeks and your machine will be humming. Once they start to wear out, you've got problems. It can cause leakage over and over again simply because it jams, making it harder to pull up and down the plunger. This leakage, over time relates to lost product, thus lost revenue.
Speaking of leakage. Nothing can be more costly to your profits or harmful to your machine than leaking product. That's why shaft seals are critical to replace. They attach to the back of the beater shaft to prevent product leaking out from the cylinder into the internal part of your equipment. If product leaks out onto the internal motor components of the machine it's going to be very bad. Not only is it unsanitary, but it will require a costly repair. Shaft seals should be replaced every season without question.
If you're using a pressurized system, then you'll also want to replace your duck bill valves. Duck bills allow you draw product up without it leaking back down into the reservoir mix tank. These should be changed every year. Without fresh duck bill vales you run the chance of losing overrun and yield on every serving.
Star nozzles are often an after thought until they become a nuisance. Star nozzles are the plastic nozzles that fit right on the dispensing head. After time, usually about a year, they start to wear down, and not fit right. It's at this point they start to fall off and become more of a nuisance than a help. Replace them every year and you won't have to worry.
An often forgot about replaceable part for pressurized machines is the door gasket. The door gasket seals the refrigeration of the machine and maintains the integrity of the liquid product in the cabinet. Over time, the good seal can wear down from the constant opening and closing of the door. Change this once a year and you won't have to worry losing product quality or refrigeration from your machine.
As always, Sentry Equipment is here to help you with all your part needs. Our parts department can tell you exactly what you need for your machines and which parts you should replace, if you do not know. We never try to sell you something that you will not need or use. We're here to help you maintain your equipment. The better your equipment works, the better for you, the better for your customers, the better for us.