Frozen Dessert Menu Architecture Success
Starting your own business in the food industry has so many struggles on its own that designing the menu is often put off till last and never given enough attention. This is where a lot of owners make big mistakes and don't even know it. Menus are a big part of the marketing agenda and you don't want to miss out on branding opportunities because your menu is an afterthought.
Stop treating the menu like it's an ordinary piece of paper with prices and get the most out of your store's menu.
Personalize it!
When talking with your graphic designer about how you want the menu to look, try to give them clues of the personality you want to reflect in your shop. It should be in accordance to the theme and the character of your store. If you want to put an accent on the minimalism being your philosophy then you better make sure your menu is not overshadowing your mantra. If, on the contrary, you want to stimulate the brain with colors and shades, don't hesitate to do so. Keep in mind to stay as clear as possible so that you don't confuse the costumer.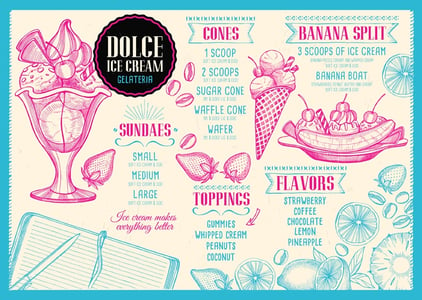 Menu layout
There are a few tricks when it comes down to the menu layout that the science behind marketing and psychology suggests for better profits! A single boost to the menu layout could be putting the high profit, high popular items on the left side, because (most) people will read that side first.
Drop the dollar signs!
Still, we could all agree that there are two types of people when ordering. Those who look at the prices and those reading the description first. You could avoid price-shopping by moving the price into the description, so that it doesn't stand out so much. According to Cornell study on "Menu Pricing" (published in the International Journal of Hospitality Management), if you do not include the dollar sign it would further help the costumer to put more attention to the product. Just don't forget to write down that all the prices are in dollars. Another thing you could do and benefit, according to Daniel Kahneman and Amos Tversky, is to anchor away. This concept is very simple and all you have to do is put a cheaper item next to a very expensive one. We are unconsciously influenced by the comparison and would probably order the cheaper item. Don't forget that even though it's cheaper, it should be high-profitable to you!
Pricing is important!
Speaking about prices, you should check out your competition but don't determine your price based just on it. You don't have to have the lowest prices in the neighborhood and this is a fact! Effort, product quality and creativity are also priced, so don't underestimate yourself or your employees. Put the right price that suits your delicious chocolate-cinnamon ice-cream with toffee bits! Nobody is going to take that out against you. Full mouth and sugar rush are something you do not save your money on. The difference between profit and loss at the end of your season can be your prices.
Be Visual!
Quite often, we forget how people function when it comes to buying. Some of us are driven by the smell, but the majority is however a bit more visually driven. Pictures sell! How many times have you ordered that wonderful ice cream product and imagined how it's going to pop up on your Instagram feed? Exactly. So, how to attract the attention to the buyer if not with your impeccable menu design? The architecture of the menu is one of the most important things when it comes to selling your goods, especially when what you are selling cannot be put on display. So next time you make those unique sundaes or other products, take a picture and include it in your menu. Your goal is to make the buyer point out an item and say: "I want that!". Enticing pictures are a must for your menu.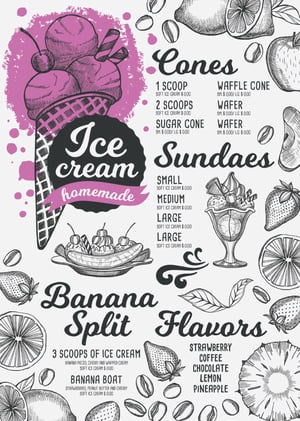 Name things creatively and be recipe driven!
Another thing that sells, when it comes to desserts is the recipe and how you name your goods. Make your business stand out in a crowd of competitors and let the magic in the kitchen drive you to success. When making an ice-cream use your creativity and boost that recipe with some differences. Be unique and memorable. Use creative branding and accent the best traits to that special vanilla mosaic with a strawberry dash. Use fonts that do entertain the eye and do not bore or defocus too much. People like it when it's clear and yet so detailed. Do not forget to mention or give clues on how the pie might betasting.
Sizing words matter!

Offer your items in different sizes! You have a better chance to sell your frozen goods when you use the right sizing words. Menus with small/medium/large categories are mostly selling the small portions. However, the kids/regular/large sizing has a more balanced split with the selling prices. So, make sure you pump the prices for the small package a bit! It's basic logic in the business world and we are sure you couldn't agree more.
Menu analysis
Something you should not forget is to analyze what is your menu selling and what is missing out. Try to do this every season. It helps you prioritize and be on the right path to success. If you find out something is not selling you should lower the price or just switch that item with something new. Don't just leave something in the menu that proved to leave you empty pockets. On the other hand, if your competitor is getting new customers with those icebox sandwiches, it's time to be creative and offer them a better choice of the same or similar item.
There is not an ideal menu since we are all pretty complex when it comes down to tastes. Just make sure you put yourself and the spirit of your store in the menu. Don't make a soulless paper with scary dollar signs. Make sure you reflect the store itself and the dishes you are selling. Don't be a copycat and just another boring dessert shop. Menus should make the guest's mouth water and crave for the next time to eat that delicious masterpiece of yours. Be authentic and legible. Also, consistency in something that most of your fans are coming back for. So, make sure you are not going to let them down. And remember, menus are marketing, not just inventory.
Any thoughts? Did we inspire you to make some changes with the architecture of your menu? What is something that you would like to highlight in your menu? Is there anything you are not sure whether or not to include in it? Hope these tips have helped you out!
For additional information on frozen dessert menu architecture success, check out our other post.