There has been all of this talk about why Electro Freeze is the best brand for your ice cream shop (which it is), but what exactly puts it above the rest, and why should you reach for its high quality instead of the quantity other brands offer?
Electro Freeze gives you the opportunity to build your business with less machinery, versatile products and flavors, and a smartphone app to control your machines on the go. We focus on what your frozen dessert shop needs to rise above the rest in a way that is practical for your business and deliciously fun for your customers.
Let's break it down. Electro Freeze allows its users to own a fraction of the amount of machinery and parts in their shops but still produce the same amount of their frozen product, if not more, and at the highest caliber of taste. Sounds delicious, right? But the cherry on top is that the multifunctional and multi-flavor machines are easy to use and clean. What about the sprinkles? Electro Freeze products are durable and consistent despite the smaller amount of machinery compared to other companies. So, doing more with less is an understatement for Electro Freeze.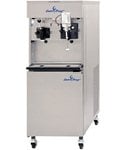 With that said, Electro Freeze features machines that are multifunctional. One of our hottest items is the soft serve/shake combination machine that produces both quality milkshakes and soft serve ice cream. What could be better than that? Our flavor systems obviously.
Electro Freeze offers the Fuzionate machine that can produce 9 different flavors in one machine and out of one dispenser. No mixing. No add ons. Just push a button to flavor heaven. With the Fuzionate in your shop, you can change flavors daily to surprise your customers with something new and refreshing.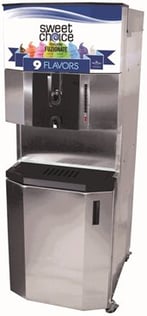 Electro Freeze also takes pride in getting everything done with one machine, the Fuzionate in particular. The Fuzionate provides unique portion controlled flavor bottles so you don't have to take time measuring the perfect
portion and features a no waste, no spill asset as well as needing no separate measuring devices. If that isn't enough, the Fuzionate along with all of our other machinery has a long shelf life that can keep up with years of prospering in your shop.
For a business to prosper nowadays, it also has to be up to date with technology and be good at using it. So how can an ice cream shop be tech savvy? Electro Freeze launched the very first soft serve frozen dessert app for smartphones that is designed for product quality management. The app is called Genni, and it is the key to your frozen success with Electro Freeze. The app provides a variety of controls including:
Adjust product quality

Track product volume

Indicate clean-cycles

Set alert and security settings

Receive statistical reports on a daily, weekly, or monthly basis
The app works in real time and allows you to do what you normally have to be in your shop for on the go and wherever you have cell, wifi, or Ethernet services.
Electro Freeze has been providing businesses with machines to turn into profits since 1946, and we aren't stopping anytime soon. The advantages of Electro Freeze machines such as having less machinery and parts, versatile products and flavors, and a smartphone app to control your machines on the go are unlike any other frozen dessert machine brand. So getting behind the Electro Freeze line is a sweet choice that you won't regret.
Feel free to contact Sentry Equipment anytime to learn more about the Electro Freeze Advantage!
Just imagine what might be next?