April is here. And, as we all know, April Showers bring...Ice Cream Shop goers!! It's time for people to put away their snow shovels and break out their gardening tools. Kids are already at practice for baseball and softball. For some of us, that means it's time to get to work. Having had a fairly mild winter this year, spring is in the air early and people are ready to jump to summer! And that means ice cream, frozen yogurt, gelato, and all other frozen desserts. You should now be planning for this year's Grand Opening.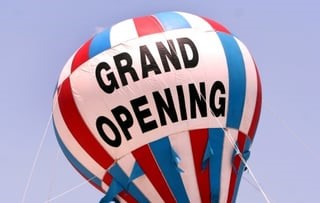 Just in case you haven't had a chance to check in to our previous blogs, the "Big Four" pre-season checklist is:
Equipment

Marketing Calendar

Menu

Store Appearance/Aesthetics



Let's briefly review. Equipment should be cleaned, checked, and purchased if necessary. Your marketing calendar should be setup, including opening, advertising, product rollouts, and more. Your menu should be finalized, and necessary product ordered. Any changes to the overall appearance to your store such as any remodeling, color scheme, painting, and cleaning should be taken care of. All of these action items need to be addressed before you open.
Make a Date
Now that the core four are taken care of, you're ready to open. Just pick a date, make a sign, and blow up some balloons, right? Not so much. There should definitely be balloons, but a lot more planning should go into your opening and Grand (Re-) Opening. No, I didn't just repeat myself. The first day you are open, and your grand opening should be two different dates. If you've done this before, you are well aware of the speed bumps and glitches that go along with opening for the season. Orders don't come in on time, equipment gets fussy, employee schedules get mixed up…. The list can go on and on. To avoid these opening day pitfalls during your grand opening, plan the main event for about month to six weeks after you open. This will give you plenty of time to plan, promote, and work out any issues.
So, don't just pick a date – make it two. One for the general or "soft" opening, and one for the Grand Opening. The first date should be the marker for getting your pre-season work done. The idea behind the soft opening is that it provides with extra operational time to be sure your equipment, product, and staff are ready for the big show. Also, you now have an extra 4-6 weeks to promote your grand opening through every avenue possible.
You've got your date(s), but people need a reason to come besides ice cream or frozen yogurt. They need a reason to show up at your place, instead of the one closer to them. A reason to not just go and get a pint of Ben & Jerry's at Wawa. You need to think about your Grand Opening as a "customer appreciation day". Think about it in terms of the customer, not your shop. You'll have the rest of the season to make it about you, but this day should be about them – and why they should keep coming back.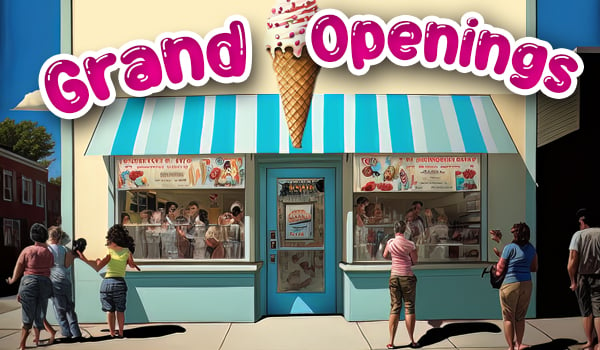 You really need to make your day an EVENT! Now, it's time to bust out those balloons…. In fact, have someone make balloon animals, and give them away to kids!! Obviously, you can have product discounts, but that shouldn't be what your Grand Opening is about – discount small, promote big. Have any leftover t-shirts or promotional items from last year? Give 'em away! Have fun, make it kid-friendly, create events to draw people to your store. Set up games & contests, a face painting station, or if you really want to go all out, think magician, photo booth, and/or animal rides!! Your promotions should be about more than just giveaways.
Your Grand Opening should be focused on your customers and the community. Think about teaming up with another local business to attract even more customers, and start establishing a more diverse customer base. A partnered celebration can be mutually beneficial to both businesses. Invite local Fire & Police Departments to draw attention - obvious discounts and mutual benefits here. Scheduled radio remotes with local media always attract crowds. Or maybe you could sponsor a local charity event to piggyback your event, people love a good cause – think globally, act locally.
All of this may seem like a lot, but think about splitting into separate day and evening events, or make it a whole weekend! The possibilities are endless, bounded only by your creativity and budget. So plan ahead, and make it worth THEIR while.
Now What?
Everything is planned, scheduled and budgeted for. Now you have to get the word out. If you're not going to promote your Grand Opening, you mind as well not have one. Start with in-store signage and move in every direction outward from there. Be sure to include:
In store – make it BIG so it's unavoidable when someone enters your store.

Print Grand Opening cards– pass them out, and keep a stack by each register and by the door.

Press Release – utilize the local media.

Promote on social media – Facebook, Instagram, Twitter, Google +, and any other you may use.

Get the word out – Have your employees talk about the event in and out of work, and talk it up in the community

Use crucial connectors in the area - PTA, community organizations, sports program leaders, fire, police, etc…. printed cards come in handy here!
Be sure every form of promotion includes, at the very least, the name of your business, your address, and the date of your event. The more people you reach, the more are going to show up. Pretty simple really…. Inundate the town with reminders. Flood the community with continuous waves of promotion.
Don't forget to think about the future and the rest of the season either - give bounce back coupons for those who attend the event to help build the business going forward. And, talk to the people in attendance to get feedback on your store – there's no better way to gauge your business and its public perception. You get one shot per year to have a Grand Opening, so go big! This is your chance to make your mark in the community for the year, and have people buzzing heading into the season.
Yes, yes, yes…. I realize, as usual, this is a lot to digest and process. But, planning, organization, and budgeting can make it a lot easier. Remember, if you need some help getting started, or would just like to bounce some ideas off of someone, the professionals at Sentry Equipment are always here to help.