Ah the dog days of summer! It's now late July and the heat index is way up. Temperatures are steadily averaging over 85 degrees and climbing. Are your store sales following the same trend?
By now, the hoopla of kids finishing their school year has passed. Most spring sports that dip into the summer months are over. Parents have adjusted to their new summer drop off schedules. Your college age customers are back home for a while. Bottom-line: your customer base has a lot of free time on their hands!
So how do we take advantage of this? What can we do to stimulate sales in these dog days of summer?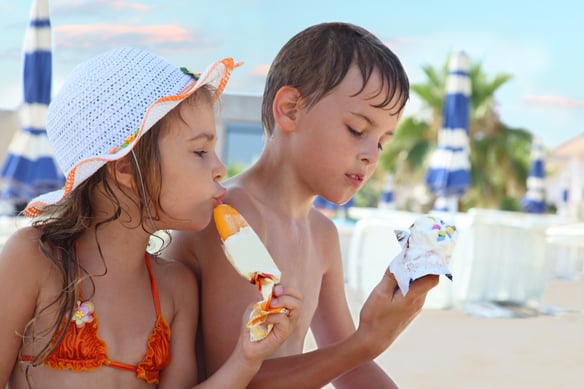 If your operation is down the shore or in other vacation areas, it's pretty simple. All hands on deck. You have until Labor Day to make your season. The weather cooperating will be a huge factor in your success. Outside that
most of your work should be done already. Because of the huge surge in business starting on July 4th, it's hard to be proactive and not reactive at this point. However, a few key points can help turn the corner.
Maintain quality, consistency and service – it's easy to blame extreme volume for shortcuts you may take in those areas. Don't fall into the trap. You are one bad Yelp review away from seeing a loss in sales.

Sample – Sample – Sample: Down the shore there are a ton of businesses in a small space competing for the same customer. Try sampling your unique products to prospective customers. Boardwalk stores can come out from behind the counter and other stores should take advantage of passer-bys and foot traffic with small samples to help promote the store.

Become the New Tradition – Most of your customers may be there just a week and a lot of them have their "ice cream tradition." Well, if they give you a chance, try and become their new tradition. Wow them with service and quality and invite them back next year. Give away some shirts and promotional items to keep their visit fresh in their minds.

Cross Market - A lot of shore business offer both ice cream and food. Well make sure you cross market these two product lines. Burger/shake combos. Ice cream specials when ordering a meal. Late night meal deals. Use one product to sell the other and vice versa.
If your operation is off shore don't fret. Outside maybe not having as great a view, you still have some valuable time left to turn the heat into profits. By now I'm sure you have read our preseason planning blog and summer rollout blog so all that should be popping. So how do we heat up summer sales even more?
First let's take a long look at our quality, consistency and service. It's been a while since you opened for the season. Complacency may have set in. Maybe you or your staff are cutting some corners that weren't cut in March. Get back to the basics and ensure your customers are getting the same experience they were getting at the beginning of the season
Is it time for a little clean up? How does your location look at this point? Perhaps the spring and summer weather has given your spot a beating. A little loss of luster can lead to a lot of loss of profit. Power washing and/or a fresh coat may help your exterior. Your interior may need a clean-up too. By now you should have plenty of people content. That is real customers eating and enjoying real product. That should be prominent in your store.

Motivating your Staff – We touched upon looking at the quality and consistency and service which involved your staff of course. But how about some good ole' team bonding. Maybe a bowling trip. A company picnic. Some exciting upsell or sales contests. You want your customers feeding off not just your ice cream but also the energy of your store. That's what creates a true destination. And your staff helps create that energy and atmosphere. Chances are after a busy spring and early summer they may need a little pick me up. Give it to them and watch sales go up too!

Summer products and flavors – We really touched upon this in our last blog. However, as a refresher remember to bring in new flavors that speak to the sweetness of summer. There's a lot of "s's" there so let me explain. Flavors such as watermelon and cantaloupe feel like summer. Bring them in and promote them. How about a firecracker sundae with vanilla ice cream, blueberry and strawberry topping? Or a dark chocolate with raspberry parfait? Just renaming some of your classics with some summerish (is that word?) names can help reinvigorate your menu and your sales.

Sample – sample – sample: By now your customers know what you have. They've settled into their choices and are probably afraid to venture into new territory. You can't let them! Get them out of their comfort zone by sampling……but…..do it after they have purchased. This may help some of your customers try new things, get hooked on new items, and come back more often. Remember that complacency we talked about before? Well it works both ways. And a complacent customer is not a returning customer.
As you can see the last months of the summer take a little work to make work. Sure it's hot but we all sell cold things and just a few tweaks and turns can help keep your sales hot all summer long.