I'm writing this blog as a dad of two kids who's worried about keeping them busy at home and having them keep up with their new "home schooling system." As a husband who is trying to help his wife as she juggles teaching the kids and maintaining sanity on the home-front as Schoology continues to crash! As a son of two 70+ year old parents and one 70+ year old in law currently in a rehab facility – hoping they all stay safe. And as a small business owner of Sentry Equipment, working non-stop to be there for my team and our customers while maintaining the safety of all involved. Balancing business and life in uncharted waters.
There is a physical danger out there and I hope everyone stays safe and healthy as human beings. But there is also another danger we face as business owners. That is our financial well-being during restrictions and the future of our businesses as a whole. That facts just adds stress as we navigate this crisis. I'm glad there are many of you out there who can stay home, wait it out and not have the financial repercussions of this virus. For many, that luxury is not on the table.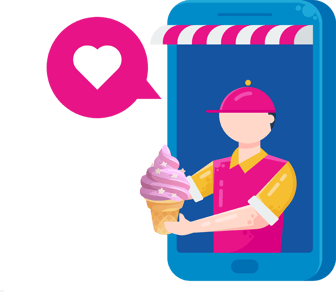 Over the past several weeks I have spoken to countless customers who have asked what they should do with their business and whether they should close until restrictions ease. Of course a number of customers without true takeout options already closed. Some stores in more restricted areas were forced to close. A good amount of stores with takeout windows and/or drive thru windows have stayed open but with reduced hours and even days. Staff members are scarce as they themselves or their parents are hesitant to have them work. I have heard many stores having a public relations concern in regards to them staying open. There is so much to balance and weigh as we work through this time. Information, and unfortunately a lot of misinformation, is literally changing by the hour and as such it becomes very hard to forecast and plan.
Here are some ideas to help your business, your safety and possibly your sanity as we push through the next several weeks.
Be Positive, but Not Ignorant
Don't lose contact with your customer base but be sure not to meet a grim cultural moment with a grim brand tone. Even if you have closed, use your social media platforms to stay in touch with your customer base. It is important to maintain some dialogue. Use this time as an opportunity to connect with them as people rather than customers. Lean into human stories and don't be afraid to be vulnerable. Gather feedback and suggestions for the future – people have a lot of time on their hands. Create employee generated comments such as Netflix binges, tips on home activities, etc. Your interactions should provide hope and information for your store and your community.
Safety First:
If you are open, take the necessary and important precautions for your customers and staff. Alter your ordering and payment procedures. Maintain social distancing in lines. Be vigilant about your staff washing hands, using gloves, etc. Clean and sanitize the inside of your operation and outside serving areas. Limit as much physical interaction as possible and take it serious. Below is a link to a company we use for graphics. They have a full catalog of solutions for safety regarding COVID-19, including sneeze guards, social distancing decals and informative signs.

Be Your Own PR Rep:
As the calls of customers who are worried about their image as they stay open mounted, this topic needed to be addressed. In my experience, it is best to be proactive to possible PR dilemmas than reactive. If you are staying open you are doing it for a few reasons. The simple answer is as a business, you need to generate income to pay bills. You need to provide jobs to the community. And you also need to provide a treat or maybe 5 minutes of an escape for a family or individual in these stressful times. Doing all that in a responsible, safe way that protects customers and employees can and should be communicated so your customers understand.
Ramp up Digital Delivery
If you attended our Open House seminar on Saturday you listened to our talk about delivery options and strategies and how important it was to get on this train. Little did I know how topical it would soon become. Use this time, whether open or closed, to create your mobile tools and services. Ramp up your online transactions and research what delivery option and platform fits you best. I have customers who are closed to sales but are literally delivering pints, cakes and novelties to customers' homes.
Educate Yourself
Whether you are closed or struggling there are a ton of programs out there to help small businesses. You need to educate yourself on them immediately. There are not just federal options, there are also many state funded grants for you to review. You also need to understand how to deal with employees when it comes to this emergency. Below are links for your state.
https://faq.business.nj.gov/en/
https://www.health.pa.gov/topics/disease/coronavirus/Pages/Businesses.aspx
https://coronavirus.delaware.gov/resources-for-businesses/
Beware there is a ton of misinformation out there. Additionally information may differ from state to state and even within specific counties. Now is the time to speak to your accountant, benefits coordinators, and all the other representatives that may provide prospective.
Time is Money

Whether open or closed, you definitely have more time on your hands. In addition to social media and other items aforementioned, what are those projects you have been putting off? Whether it is upgrading your website, doing training manuals, or even sprucing up your menu……Now is the time! How about recruiting more talent for when you reopen or open fully. There are a lot of kids out there who may have lost their jobs. They may be able to get them back but the opportunity may be out there to recruit.
That's all. There is no deeper meaning or agenda to this correspondence. I've already sent out our "official" company Coronavirus email. This email was to let everyone in our social business community know that you are not alone. Give you some tips to fill your time and help your business. Who knows how long this lasts. We can't control that but we can control how we respond to it.
Coronavirus stinks….ice cream is great.
Be safe….and if you need us, we will be there.
Sincerely
Robert Romarino