Do you sell Italian water ice? If so, how much do you sell? Water ice is an awesome product because people love it, the flavors can be almost endless and customers will come back for it over and over again. So if you do sell a water ice in your store, you should really be looking at making your own water ice product rather than buying it from someone else and reselling that to your customers.
Though there are many vendors that provide a quality water ice product wholesale, the fact is, there many advantages to bringing the operation in-house and make the water ice yourself. The number of water ice tubs you sell throughout the season can help you determine whether or not the investment into making your own is worth it. It could be the case that the money you save from making it yourself rather than buying wholesale could pay for the equipment in 1 or even 2 years. Even if it's close and your not sure of the financials, then read below to find out all of the benefits to making your own instead of buying it wholesale.
First, we need to address the naysayers. Those who continue to buy wholesale as opposed to making their own Italian water ice. The number one reason water ice establishments choose not to make it in house is the financial concern. Does it make sense financially to make it myself? Generally, the answer to that question is an overwhelming yes. However, wholesale product re-sellers aren't often looking at the long term picture, rather looking at from a seasonal basis. What they miss looking at it from just a financial concern is all the other added benefits of making your own like we mention below.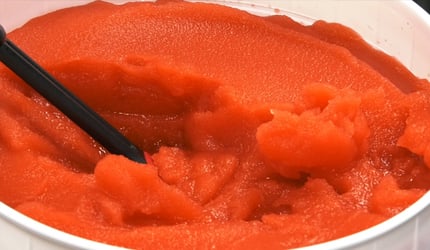 The financial concern is not the only barrier people put up. Also high on the excuse list is...I don't have time, I don't have the space or I don't know where to go to learn or how to learn. We'll, we've been consulting in the frozen dessert industry for over thirty years and we can tell you that none of reasons mentioned above should hold you back from going for it. The truth is, as a business owner, you have to make the time to do it...just like you do everything else. If you think that space is a reason not to do it, then you need to consult with us because we've helped customers with this same issue come up with some pretty creative, unique and sensible ways to over come this. If you think learning or lack of knowledge is going to be a problem then you can learn from experts like us. We have an extensive library of recipes and training videos available through our Frozen Dessert Academy We can provide training to you and your employees exclusively to help you not only develop recipes and make water ice but how to market the product to your customers.
If you're still not convinced, then here are some advantages to making your own water ice as opposed to buying your product wholesale.
Cost Savings. The number one reason to start making your own water ice is cost savings. How much you save initially will depend on how much you're buying the wholesale product for and the ingredients you're using to make it. Just know that over the long run the savings are going to add up dramatically. An Electro Freeze batch freezer will last 20 years or more. That's a lot of batches of water ice you can make with an almost endless amount of flavors. Now, imagine buying the same flavors over and over again from a wholesaler for the next 20 years. It's a no-brainer what the smart choice is.
Inventory Control. Water ice is quality sensitive, meaning over time, the freshness and quality of the product will degrade. When you make your own you control inventory which means you can make what you need when you need it. There's going to be no wasted products and you're always going to have a fresh, quality product to serve. Your customers will notice the freshness and the higher quality product - thus creating repeat customers, more sales and better notoriety for your brand.
Brand Control. Speaking of your brand...once you start making your own water ice, you're the one in control. You're no longer a middle person or selling someone else's product - it's all yours. This means you can brand it how you want and call it what you want. You are going to own every aspect of this product from conception to sale. If you market you homemade product in the right way you can start building brand loyalty from your customers, which in turn will produce more customers because of social proof.

Creative Control. One of the best reasons to start making your own is that you have complete creative freedom over the water ice you create. That means you can create any flavor you want for your customers, not just the flavors your wholesaler offers. Being able to flex your creative juices allows you to create new and different flavors every season for your customers. Guess what, you get to name your own flavors and concoctions too. Get creative with your flavor names and entice customer into trying it.
Increased Sales. Finally, we saved the best for last. Your sales will increase when you make your own product. It's simple, people want homemade, fresh products nowadays. For too long, major food companies have been adding...things you don't even know about or can pronounce... into our foods. Consumers have grown more than weary of this and want to know and understand where their food is coming from. Furthermore they want to know the products they buy from you is made fresh, with hand chosen ingredients sourced locally. If you can market this and help make your customers understand this, your sales will no doubt increase. If they so much as knew you were buying wholesale water ice made in some factory...you better believe they'll think twice about eating it.
In summary, if you're not making your own water ice...you're missing out. The time is now to capitalize on the fresh, farm-to-table, locally sourced trend. If you're still not sure it's going to make sense for you, let us know, we can evaluate your opportunities and let you know if it makes sense in your market.