The ultimate goal for every brick-and-mortar business is to be the one company in a particular industry where customers drive great distances to patronize, refer all their family and friends, and feel like they've personally discovered (and are about to share) their town's best-kept-secret! Even if your ice cream shop is one in a long line of businesses that also offer ice cream products on the very same street, you can still make your frozen desserts remarkable. So, how do you differentiate your ice cream from all the rest? It's quite simple: produce quality. Consistently.
When you consistently provide a variety of soft serve ice cream that is absolutely delicious, aesthetically-appealing, and professionally presented each and every time your soft serve storefront's "open" sign is displayed, you'll consistently continue to be the "go to" ice cream destination of choice for both loyal, established customers and for brand new customers who have heard wonderful things about you, your products, and your service.
Here are specific choices to make and actions to take that will place your soft serve products in a high-caliber league of their own:
Use Only High-End Ingredients, Always
Serve just one bad order of your soft serve ice cream to a customer and you can confidently bet that customer won't be back. Your business does not thrive on selling one cone; it flourishes, grows, and achieves new successes because of your repeat customers. Start out with high-end, high-quality, healthy ingredients and your customers will flock to your establishment even through the winter's snow. From the natural vanilla ice cream you use as your first, base ingredient to everything you add to create your variety of flavors – every single aspect of your product must be fresh, quality, and safe. When you choose only the best ingredients to create the variety of products for your customers, you can confidently and proudly promote and share that business choice with your customers. Choosing the best tells your customers you care about them and the integrity of your product.
Purees Aren't Just for the Hard Guys!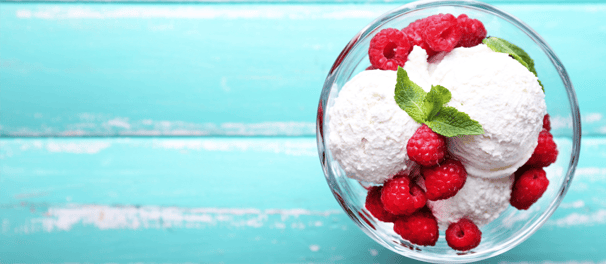 Just like with hard ice cream, you also can capture the balance of sweet and tart of summer fruit with fruit purees. Since most ice cream shops and customers alike expect only to find fruit purees used with hard ice cream exclusively, adding this unique ingredient to your soft serve products will not only increase the variety of flavors you'll be able to offer, but also attract all those customers who prefer soft serve but like the fruit typically only found in hard ice cream! Voila! The best of both ice cream worlds coming from your establishment!
Thinking About Using Extract? Fuhgettaboutit!
Although it might be the most common way to add flavor to your ice cream (as well as the cheapest), avoid (at all costs) using extract. Instead, choose fresh purees, fresh fruits, and healthy ingredients. Remember: your goal is quality in every facet of your operation.
More is Less
The more variety of flavors you offer, the less competition you have. Sure it's easy just to concoct a couple of flavors and stick with those all season long, but you didn't embrace the opportunity to run a frozen dessert company just to get by or just to be mediocre. You want to earn the business, respect, and kudos for being your town's best soft serve business? Offer a variety of flavors! It'll inspire your already-happy customers to come back to discover what you've created for the day, weekend, week, or holiday!
Quality Ingredients + Top-of-the-Line Equipment = Success
While you may have the perfect pleasant customer-oriented disposition for the soft serve ice cream business, and while you may commit to using only quality ingredients, if you don't have the right equipment to mix, maintain, properly freeze, and serve your product, your personality and your high-end ingredients alone can't produce your soft serve ice cream. Sentry Equipment has offered the best soft serve ice cream equipment for years. Their Sweet Choice™ Electro Freeze equipment, in particular, is the industry's first fully-integrated frozen dessert machine capable of producing 9 distinctly-different soft-serve flavors from one single machine. What makes this state-of-the-art machinery even more appealing is that while it does a big job, it requires only a small space at your location.
Making your frozen desserts (and your business) remarkable is not only doable, but also surely your ultimate goal. Otherwise, why bother? Why not strive to be the absolute best in your industry? To be the "go to" flagship operation that others look to for inspiration and advice? Choosing to use quality, extract-free ingredients and fresh purees typically only reserved for the hard ice cream market, combined with offering an array of flavors and investing in dependable, state-of-the-art equipment will significantly differentiate you from the norm.