Milkshake Machines
Whether you own a full-service frozen yogurt shop, swank burger joint, local amusement center, or a cool specialty restaurant, milkshakes on the menu always prove to be a profitable and popular item. While that's a good thing for both you and your customers, the challenges arise when your business is jam-packed all at once with milkshake-thirsty patrons. Fortunately Electro Freeze has designed one of the absolute best milkshake machines on the market: the Model CS705. While milkshake machines vary from manufacturer to manufacturer, there is none that competes with Electro Freeze's CS705. Here's why this gravity shake freezer is in a league of its own from all the other milkshake machines:
The CS705 is one of the fastest milkshake machines.
A common challenge for business owners like yourself who sell milkshakes is the time it takes to create a creamy and consistently-delicious product when there's lots of orders for them! Traditionally, taking the time to make one milkshake every couple of hours is no big deal; however, on a busy afternoon or evening when your business is packed with a sports teams, families, or just individuals in the mood for a milkshake, it's hard to get milkshakes all out in a timely manner. Often, orders get cancelled or sent back if they aren't made to perfection. The solution? Electro Freeze's CS705 milkshake machine. In a matter of seconds – literally – this state-of-the-art equipment can produce milkshake after milkshake. While saving time getting your milkshakes out is awesome, the important thing to remember is this machine produces exceptional milkshakes – not just fast ones.
The CS705 is one of the most profit-generating milkshake machines.
The faster your staff can deliver quality, delicious, perfect milkshakes to customers, the more profit you will make. With a state-of-the-art milkshake machine that can handle a lot of regular use, you can even advertise a new milkshake flavor of the week ~ encouraging your patrons to return for the next week's special.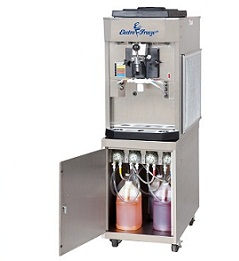 The CS705 is one of the easiest-to-operate milkshake machines.
With no CO2 required, the CS705 is easy to operate ~ simply press a button to select the flavor you want! It also features quick connections for your syrup bottles. It's simple to make syrup adjustments, and has just a few parts ~ making it a breeze to disassemble and clean.
The CS705 makes exceptional milkshakes.
This Electro Freeze machinery consistently produces the best frozen products available ~ making every milkshake smooth and creamy. The Consistency Control feature on the equipment is designed to dispense the product without wasting any ingredients from overflow. In addition, this gravity shake freezer features 5-flavor injections so you can quickly and easily switch from one flavor to another without any downtime.
The CS705's design is 21st century.
This awesome compact milkshake machine needs just a little space in your business, barely taking up any footprint. Further, it comes with a matching cart underneath ~ a convenient place to stock your mixes and your syrup in its 6 cubic feet of storage. The cabinet is a heavy-duty commercial grade stainless steel that includes heavy-duty casters and a sturdy latch.
The CS705 is designed by a leader in the industry.
For decades upon decades now, Electro Freeze has continued to design top-of-the-line, affordable, and awesome equipment to produce exceptional milkshakes and other frozen treats.
The CS705 is backed by Sentry Equipment.
While investing in the best equipment is the first step towards running a profitable, customer-centric business, having the backing of a reputable distributor for your equipment is just as necessary. You can't afford to have any downtime; you need a "go to" reliable resource to answer your questions, give you ideas to help you market and increase your profits, and provide you with training as needed. Sentry Equipment is a world-renowned distributor for Electro Freezer equipment, helping new and established business owners run and maintain their freezer equipment without a hitch. Sentry Equipment will teach you how to set-up, operate, clean, and maintain your CS705; you'll get a full warranty with your new equipment, and Sentry Equipment will ensure you get replacement parts and service if you ever need them.
Before the CS705, making milkshakes was a time-consuming, headache-inducing, and labor-intensive process that not every employee always got right the first time. With Electro Freeze's invention of the injected flavor milkshake machine, that's all changed. In just a few seconds and with the simple pull of a handle, you can go from a vanilla milkshake to a delicious chocolate milkshake ~ one that is consistently creamy and profitable! You no longer need to reach for an aspirin when your business gets slammed with milkshake orders, simply choose a flavor, press a button, and Voila! ~ your milkshakes are served and your headaches are history!