One of the favorite topics we like to discuss here at Sentry Equipment is novelty items. If you're not producing novelty items at your frozen dessert shop then you're missing out on potential profit opportunities. Some of the common objections we hear are I don't have the time, I don't have the know-how or I don't think it will work in my store. It's time to get rid of the objections and excuses and just start to do it.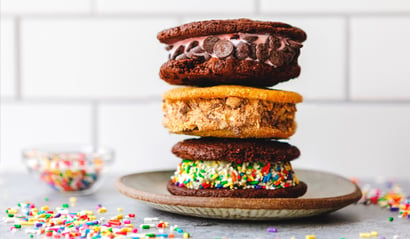 Novelties were up sixteen percent in 2020 and continue to grow each year. The pandemic actually helped this a little bit because people were taking items home or ordering in rather than going out. Producing novelty items can be extremely profitable and you should be taking advantage of the opportunity. The best thing is, you can use your existing equipment to make whatever you need to make. Whether you have a soft-serve machine or batch machine you can use this existing equipment to make whatever creation you want.
Some of the staple novelty items you can make and sell are ice cream sandwiches and cookie sandwiches. An ice cream sandwich can cost as low as 45 cents to make, but we can turn around and sell it for as high as $2.95. The cookies and ice cream sandwiches may only cost about 85 cents to make but you can sell it for as much as $3.95. Bundle these items together into six-packs and sell them for as much as $12 to $18.
Frozen chocolate-covered bananas are another side item you can sell. If you offer banana splits as part of your menu then you can use the older bananas to freeze, dip in chocolate and sell anywhere for a dollar or two. The cost is minimal, you were probably going to throw those bananas out anyway. Put a stick in them, freeze them, then dip them in chocolate and display them to your customers.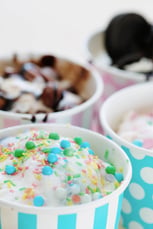 Ice cream cakes are another offer. You can buy a mold, put a few layers of chocolate and vanilla ice cream in between some cookie crumbs and cake. Once you freeze the mold you can pop it off and decorate it a little further. If you have a batch freezer, you can do any flavor you want for the ice cream cakes. Small ice cream cakes can go for as low as $19.95. Larger ice cream cakes can go for as much as $39.95.
There's really no limit to what you can do with the products. Get creative. Ice cream cupcakes, water ice cakes, popsicles, or even take-home flights. Package up samples of ice cream into 4 or 5 oz. cups and let customers take them home. Create your own pints and quart containers with your branding on them for customers to take home. If you have a walk-in store, be sure to visually display these items in a freezer where customers can see them. This is a visual business, let the customer see and they'll buy with their eyes.
These items are also great to offer for delivery services like Grub-Hub, DoorDash, or Uber Eats. All you need is some molds, some marketing, and some help. If you need the help, we're here. We can teach you how to make novelties your next great thing.