You've finally done it! You opened your own ice cream store. You passed all of the trials and tribulations of the startup. You have a staff you feel fairly comfortable with, and a growing customer base. Things are pretty good. But, could they be better? Of course they could.
You did your research and learned about over-run and milk fat. You taste tested and hand-picked what products are served at your store. But, there's still a sense of being limited in flavors and quality. Limited by what is offered by your brand of choice. Of course you could fulfill your needs by searching for that highest quality, endless stream of flavors mythical brand, but you know it doesn't exist in reality. And even if it did, it would cost an arm and a leg (or maybe all fours). So what is one to do? How about starting your own brand of ice cream? You would be able to control quality, high or low over-run, and change/add flavors on a whim. You could even throw in a line of gelato or sherbet if you choose. Sound too good to be true? Well, it's not. By adding a single (to start) piece of equipment, you could finally put an exclamation point on your ice cream store dreams!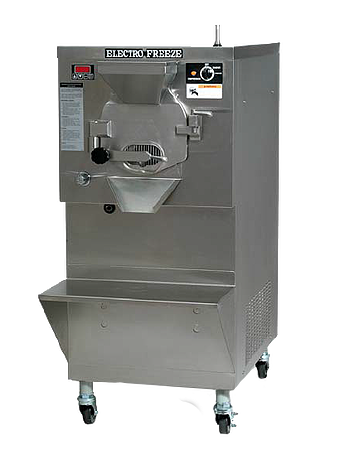 Brand It!
In an earlier blog, "U Got the Look: Does Your Business Look Franshiseable", I stressed the importance of branding your business, recommending logo-labeling quarts and pints of scooped ice cream. Now, imagine if the ice cream in those pints and quarts was your very own recipe and brand? Sound like a pipe dream? Well, throw your longboard in the Woody…. We're heading to Pipeline!! By adding Electro Freeze® B12 or B24 Batch Freezers to your line, you could develop your very own signature ice cream. The B12 is a medium capacity freezer, while the B24 cranks out the high volumes. Both produce the highest quality ice cream, Italian ice, gelato, and sherbets.
Rise of the Machines
The B12 and B24 are two of the simplest, most efficient ice cream makers on the market today. Let's take a quick tour of the 2 machines to see what sets them apart from the rest. Right off the bat, you'll notice the easy to read, and easy to use digital timer, with its audible alarm. Right next to that, you'll find the specially designed, extra wide fill-mouth – this makes adding particulates, purees, or any other ingredients that you've conjured up easy, and mess-free. Even if there is a bit of overflow or mess, just use the built-in water hose and valve! Located to the right of the fill-mouth, and on top, the easy access hose makes cleaning the machine a snap, and can also be used for filling, if you decide to branch out to Italian ices or other water based products. The two elements of design you'll constantly notice when using the B12 and B24, or any Electro Freeze machines, are efficiency and cleanliness.
Now, on to the "guts" of the freezers…. Both mixing cylinders have a one- latch, lift off door that can easily be removed, and brought to the sink for cleaning. There is a rubber seal on the inside to prevent product leakage. In the cylinder you'll find the custom, one-piece dasher with 6 blades that remain in constant contact with the cylinder wall, leaving minimal residue and leftover product. This design reduces waste, and allows for easier cleanup of both the cylinder and dasher. The simple blades are all removable for cleaning, and last about 3 years. The dasher also features a double sided, reversible beater shield to keep product from leaking out the rear.
When you are actually making your own recipe for your own brand of ice cream, and the compressor is running in freeze mode, there is an indicator light that will come on. What's so special about the compressor light? Well, if you're in the middle of making your ice cream, and have to step away from the machine due to customers or anything else, the compressor will automatically shut off (light off) when the right consistency is achieved. But, it will then continue to cycle through to maintain the same consistency of product ensuring you won't ever freeze up or damage the machine, all while saving your ice cream.
Finally, your ice cream is dispensed through the sealed flow gate – this seal can also be removed for cleaning. Once through the gate, the large dispensing spout of the Electro Freeze B12 & B24 allows continuous, smooth flow of product. The can stand below can be adjusted to accommodate 2 to 5 gallon buckets reducing the messes often created during this process (no more tipping the bucket when filling). And there you have it – your very own brand of ice cream to unleash on the public!!
Electro Freeze B12 & B24 Batch Freezers
These medium and high capacity batch freezers are simple and efficient machines for creating the ice cream flavors and brand of your dreams. For nearly 30 years Sentry Equipment has been a leading distributor of Electro Freeze frozen dessert equipment. Electro Freeze has been in the frozen treat machine business since 1929. No matter your product of choice – ice cream, frozen yogurt, gelato, Italian ice, shakes, frozen cocktails – or volume of business, there's a model to match your business. Electro Freeze invented the pressurized soft serve machine and provides the simplest, most efficient machines on the market today.
From top to bottom, Sentry Equipment will handle the sales, service, parts, and marketing for all Electro Freeze equipment offered. Sentry's staff is filled with frozen dessert experts dedicated to helping their clients achieve success in the frozen dessert industry. Besides high quality, industry leading equipment, working with Sentry provides you a top notch sales & service team committed to education, consultation, training, and service. They're there to help you achieve success.
So, the ball is in your court…. Ready to make the leap? Ready to create your own flavors and brand of ice cream? If so, or if you just want to discuss your options, contact Sentry Equipment today!