It's that time of year when the holidays have ended. You have finally recovered from New Years. Your Christmas decorations may or may not be still up, but it's okay either way. I don't judge. As you bask in the aftermath of your busy December, the onset of your 2023 season is staring you in the face. It's amazing how the day before New Years, the season seems so far away, but the day after it seems so close. As your anxiety kicks into high gear about all you have to prepare for, let this blog help remind you about one important item. You're Electro Freeze wearable parts!!
This month we're going to remind you of the importance of changing your wearable parts in your Electro Freeze machines. Now, just because we sell the machine and the parts don't think of this as an egregious way to do both. Our main goal is to educate you and teach you how important it is to have the right parts on hand when you need them.
As you may know, our ice cream machines have a great return on investment. Many of our customers can make an ice cream cone for around $.50 and turn around and sell it for $3.95 or above. Though the machines do provide a great return, they are just that, investments. In order to maintain this investment, which produces the highest product quality for your customers, there are a few parts that you'll need to change. These parts, which are few in number and cost, should be changed on regular basis to maintain the equipment's performance and longevity.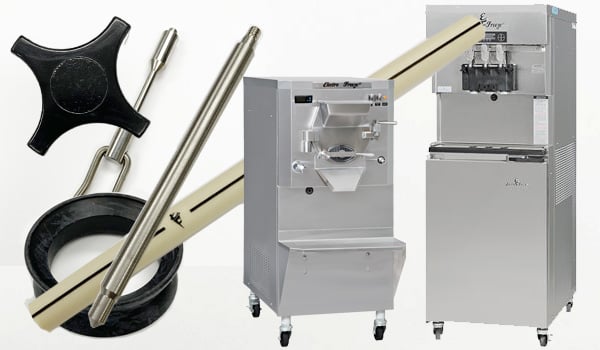 Because it is a machine, failure to address one small problem could compound and lead to bigger problems down the road. That small, inexpensive part, you didn't change, is now causing component failure, which leads to downtime on the machine - where you can't serve customers. Failure to replace these parts means you're probably not getting the proper overrun and product quality as before. You could also be losing food cost and cutting into your product margins. All of these little things you're not doing can eventually add up to disastrous and expensive consequences.
You need to be proactive with your machines, not reactive. Make sure you have the parts on hand and in stock. If something does happen or you discover you need a new oring or hose while cleaning it. It's a simple fix. If you do have one of our machines then we provide a maintenance sticker or card so you can keep track of the last time you changed parts. We have done several blogs on this topic before and we always try and educate our customers on this every year, as a reminder, because it is that important.
The machines are very inexpensive to maintain with these parts, but you have to make it a priority in your store because you'll maintain the:
Performance

Durability

Product Quality

Food Cost

Margin
You will save MONEY. You will save TIME. You will keep your customers HAPPY.
Our first priority at Sentry is your success. We want to make sure you understand the importance of these wearable parts so you can have them on hand in case you do need them. We can provide you with a complete kit or individual parts for any of your machines.
Take advantage of our preseason parts specials and discounts! You can call us at 800-853-8026, email our parts manager at jennifer@sentryequipment.net or click below.