Sentry Open House 2016
For nearly 30 years Sentry Equipment has been a leading distributor of Electro Freeze® frozen dessert equipment. From top to bottom, we handle the sales, service, parts, and marketing for all equipment offered. Electro Freeze has been in the frozen treat machine business since 1929. Electro Freeze® invented the pressurized soft serve machine, and twist feature, and provide the simplest, most efficient machines on the market today. No matter your product of choice – ice cream, frozen yogurt, gelato, Italian ice, shakes, frozen cocktails – or volume of business, there's a model to match your business.
It's that time of year. It's time to make the big decisions that can make or break your 2016 frozen dessert season….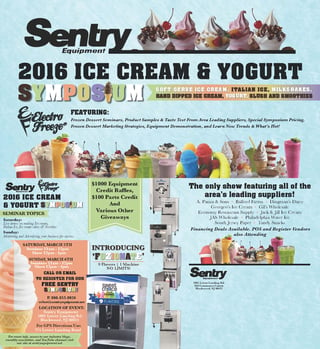 Do I need new equipment? Is it time to include soft serve on my menu? Milkshakes? Smoothies? Is it time to start making my own ice cream, and creating my own brand? What flavors have worn out their welcome? What flavors and products are going to be HOT this year? How can I turn 3 feet of space in my operation into a new profit center?
Get all these answers and more from the experts and fellow store operators as we kick off the season right with the 2016 Sentry Open House!!
Who:
Sentry Equipment
What:
2016 Open House
Where:
Commerce Center Industrial Park
1001 Lower Landing Road
Blackwood, NJ 08012
When:
Saturday, March 5th 2016
Seminar: 11:00am-12:00pm....Open House: 12:00pm-4:00pm
Sunday, March 6th 2016
Seminar: 11:00am-12:00pm...Open House: 12:00pm-4:00pm
Call ahead or email us to register for our two FREE seminars:
Saturday - Live demos on making Ice Cream, Italian Ice, Ice cream cakes & Novelties
Sunday - Marketing and Advertising your business for success in 2016
Also featuring $1000 Equipment Credit Raffles & $100 Parts Credit Giveaways!
Electro Freeze Equipment Demonstrations
Soft Serve
Fuzionate - 9 flavor soft serve machine
Homemade Ice Cream
Homemade Water Ice
Shakes
Slush
Frozen Cocktails
Mix-ins & More
Free Frozen Dessert Seminars
Samples from the Area's Leading Suppliers
Special Open House Pricing on all Equipment
Discover How to Increase Profits in your Business
Learn What's Hot and New Trends in the Industry
Add or Increase Varying Segments for Frozen Dessert Profits
Financing deals available
Sentry's staff is filled with experts dedicated to helping you achieve success in the frozen dessert industry. Besides high quality and industry leading equipment, working with Sentry provides you a top notch sales & service team committed to education, consultation, training, and service. For information, schedule, and how to attend the demonstrations and/or seminars you want contact us now!!
It's time for the 2016 Sentry Open House!!
For more information on the Open House or Sentry Equipment:
800.853.8026
robert@sentryequipment.net