Sentry Equipment was featured in the June edition of Food and Drink International magazine. The article discusses how Sentry Equipment, a family run business, supports other small family runs businesses with their comprehensive services.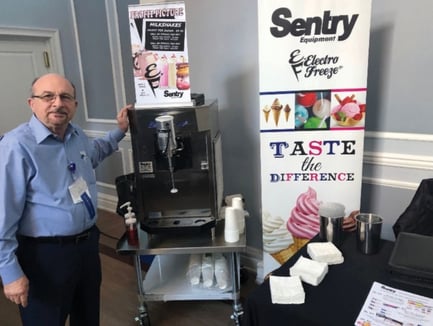 Based out of Blackwood NJ, Sentry Equipment is a distributor of Electro Freeze frozen dessert machines in New Jersey, Pennsylvania and Delaware. Though they are consistently a top distributor for Electro Freeze every year, their services extend far beyond just selling frozen dessert machines. As president and owner of Sentry Equipment, Rob Romarino states "I'm not in the sales business, I'm in the customer creation business". Sentry helps ice cream shop and restaurant owners succeed in a number of ways including ongoing education at Sentry's Frozen Dessert Academy, onsite consultations, open house seminars, menu architecture and even store layout and design.

Though the team is small, their culture has been key in executing a high level of service to their varied customer base, especially during the busy summer months. "We have been family owned since 1981 and what separates us is that we bring family values and customer-first approach to equipment sales and the service process to the equipment." Romarino states,
Founding partner Bob Romarino.
Though their customers are spread out through a large geographic area, Sentry maintains a connection to them with a dedication to service and consultation.
Read the full article here in Food & Drink International.