For nearly 30 years Sentry Equipment has been a leading distributor of Electro Freeze® frozen dessert equipment. From top to bottom, we handle the sales, service, parts, and marketing for all equipment offered. Electro Freeze has been in the frozen treat machine business since 1929. Electro Freeze invented the pressurized frozen yogurt machine, and twist feature, and provide the simplest, most efficient machines on the market today. No matter your product of choice – ice cream, frozen yogurt, gelato, Italian ice, shakes, frozen cocktails – or volume of business, there's a model to match your business. The Electro-Freeze Artic Swirl combined with the Wadden 24 Flavor System is another advancement in the soft serve industry, combining speed, flavors, and blend-ins.
In 1987, Michael Douglas' character Gordon Gecko declared "Greed, for lack of a better word, is good" in the dramatic blockbuster Wall Street. Who knew he was talking about ice cream? You can now have your cake (ice cream!) and eat it too!! Revive your stagnant menu with 24 flavors of soft serve, frozen yogurt, and shakes, all with blend-ins limited only by your imagination - all within an easy to use, small footprint.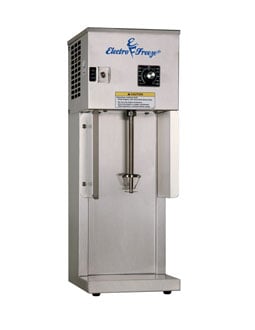 Mix in cookies, candies, and/or fruits with your soft-serve ice cream, frozen yogurt, or shake with the original flavor blender… The Arctic Swirl. With a variable speed, high durability motor capable of mixing soft serve with candies in seconds, you're sure to appease the masses…. And quickly. The optional foot switch for hands free operation keeps the line moving and your store clean. The easy to use Arctic Swirl can add a highly profitable product segment to an already successful business.
Candy Blend In Profitability
Average selling price for 16oz candy blend-in: $4.25
Cost of goods with Arctic Swirl: $1.05
Profit per serving: $3.20
Profit on 50 servings sold per day: $160.00
Profit per month: $4,800.00
Profit per year: $57,600.00
Shake Profitability
Average selling price for 16oz shake: $4.95
Cost of goods with Arctic Swirl: $1.05
Profit per shake: $3.90
Profit on 25 shakes sold per day: $97.50
Profit per month: $2,925.00
Profit per year: $35,100
Now, if that's not enough, throw in 24 flavors to choose from to fuse with your soft serve or frozen yogurt. Let your customers fuse any one of 24 delicious flavors with Wadden's 24 Flavor System - turn plain old vanilla into peanut butter, strawberry, mango, or any of the other 24 options available in a matter of seconds. The system comes with everything you need to offer 24 delicious flavors of soft serve including: a variable speed foot switch, 5 special cups with caps, a dedicated cleaning cup with brush, 24-8oz bottles of flavor extracts (total yield approximately 7000 servings) with their own special pump, and attractive trademark point of sale merchandising items.
Other advantages of the 24 Flavor System
Operates independently from your soft serve ice cream machine.

You won't need to operate as many flavor ice cream/frozen yogurt machines since you can offer all flavors from only 1 soft serve machine and a 24 flavor system.

Stainless steel construction.

Easy to use & maintain.
By pairing the Arctic Swirl with the 24 Flavor System, you'll be able to offer your customers the delicious flavors and unbelievable candy combinations no one else is offering in just seconds! Imagine offering peanut butter soft serve with peanut butter cups mixed in!! Or maybe cookies and cream soft serve with real cookies blended in. Or just keep it simple with delicious flavors like blueberry, banana, pistachio, or cheesecake - flavors of soft serve ice cream or custard, yogurt, shakes, slush and arctic swirls. Mix in candies! The possibilities are truly endless! Your competition won't be able to keep up with plain old cookie crumbs on top of their limited ice cream choices – if it isn't blended, it just isn't as good!!
Being first to market with amazing blend-ins and fused soft serve and frozen yogurt, you'll see your daily sales jump. Just by adding the Arctic Swirl & 24 Flavor System you can expect:
Increase in Number of Customers/Day
Was Selling Now Selling Added Profit/Year
50 cones/day 80 cones/day $9,288
150 200 $15,480
300 400 $30,960
It's just simple Economics: Price - Lower Cost + Candy Blend-Ins = Higher profits. Jump-start your business in a small footprint today!!
If you're still unsure about jumping onboard with the Arctic Swirl & 24 Flavor System, let's break it down to 3 Great Reasons….
1) Revitalize your menu with 24 flavors of soft serve, shakes, and candy mix-ins. Offer all in a cup or on a cone in seconds!
2) Increase your customers by drawing away from your competition and even see your existing customers more often!
3) Boost profits by up-charging for items made with the all natural, delicious fat and no sugar added flavors!
Limited only by your creativity, create infinite combinations of infused flavored soft serve and frozen yogurt with cookies, candy, fruit, or whatever you want. The Arctic Swirl & 24 Flavor System pairing offers the ultimate solution to increasing your profits without huge investments in equipment.
Backing the equipment, as with all frozen dessert products, is the support system. Sentry's staff is filled with experts dedicated to helping their clients achieve success in the frozen dessert industry. Besides high quality and industry leading equipment, working with Sentry provides you a top notch sales & service team committed to education, consultation, training, and service.
For more information on the Arctic Swirl and 24 Flavor System:
800.853.8026
info@sentryequipment.net