Okay, so REO Speedwagon was not singing about frozen desserts, and I may have just totally dated myself with that title. No matter, we move on. The only thing better than having customers in your store, is being in their freezer at home too. Just imagine a family of four getting cones or cups at the counter, and they realize they can also bring some home with them!! Everyone should always be interested in finding new ways to increase sales, and grow their brand. Even if you offer a great line of products (ice cream, smoothies, etc….), have a memorable logo, and are well-branded, there's always room for improvement. Take home novelty frozen dessert products are a great way to drive sales and get your brand into your customers' homes.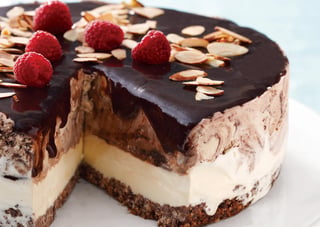 You're So Novel!
Novelty product options are numerous and cover a wide range of tastes. Many can be stored in a display freezer near your counter, some are point of purchase items, while others can simply be asked for. Price points range from low to high, but all add to your total sales. Some simple, popular ideas include (avg. cone/cup/sundae sale is $3.95):
Ice Cream Sandwiches ($7.95/6) – Classic or Cookie (think Chip-wich).
Frozen Bananas ($7.95/6) – A popular favorite.
Quarts & Pints ($8.95/qt. & $4.95/pt.)– Ice cream or water ice to take home.
Ice Cream Cakes ($24.95) – Simple & classic, or creative & picture-worthy.
Ice Cream/Water Ice Pies ($19.95)– A newer cake competitor.
Gift Baskets (varies) – Different sizes including gift cards, shirts, candies, etc…. Maybe "build your own".
Chocolate-Covered Pretzels, Candies, Cones – Everyone loves chocolate.
Pre-packaged desserts are great add-on items, and are also great for a quick buy to take home or on the go. You'd be amazed at how a simple, properly stocked reach-in freezer can help your business. Quarts and pints are possibly the easiest and quickest way to achieve your sales and branding goals. If you are making your own ice cream and water ice – this is a must. Scoop them in the morning (into a logo'd container), store in the freezer, and wait for the register to start ringing. If you need proof, just take a look at your local supermarket or convenience store. The pints are taking over the ice cream section! People want smaller servings of higher quality product, and they're willing to pay top dollar!! Use this niche market to push specialty flavors that your competition doesn't have – an easy way to move inventory at higher purchase prices. If you're unsure of what flavors to start with, just ask…. You can use social media or do it the old fashioned way, actual one-on-one talking.
Bigger ticket items such as pies, cakes, and gift baskets immediately affect your bottom line. The average price for a single ice cream cake is $24.95, and that's for the plain ones. Ice cream cakes must have the ability to be personalized & decorated. Make up a pamphlet with your general, everyday designs, and book of the endless possibilities. If you're creative, or have an employee that is, start playing around with Cake Boss-style cakes, and watch the prices increase dramatically. With gift baskets, prices obviously reflect content, so the only limitations are size of the basket and your imagination. Don't forget to post pictures of all your bold creations on Instagram, Facebook, and all other social media!! Finally, look into partnering up with local birthday hot spots (jump zones, bounce places, parks, etc….). You should be their go to source for cakes and novelty products when they have parties, and THE go to source in the community.
And remember, you don't have to be open to take and make orders. Through phone, internet and social media Birthday/Holiday cakes & pies are a bestseller all year long. Besides the actual, physical sale you'll be growing your brand as your product is featured at parties where there are limitless prospective customers enjoying the fruits of your labor. You can create an entire new profit center into your store using your product, brand, and logo.
Any, and all, of these items are a great way to increase your sales and get your brand noticed. They can help increase overall average ticket totals, and drive sales with bigger numbers while moving large amounts of product. By making sure all take home products are properly labeled with your logo, these take home products will also get your brand into your customers' homes. Imagine the possibility of growing your own ice cream brand through quarts & pints of product – even Ben & Jerry's started somewhere. Even simple bags of candies, or cones to bring home, at the registers can add up.
The Buzz Bin
So you've decided to take the leap into the world of take home novelty products. What's next? Well, after you've ordered the necessary product and accessories, your first order of business is to add them to your menu - signage and takeout if applicable. Next up is displaying the new products in your store. Be sure you have visual refrigeration case(s) properly positioned for maximum exposure. Don't cram new items into a freezer already in use – they'll get lost in crowd, and end up being a loss. If you have a walk up window, you need pictures of the products out front for people to buy. Add decorative photographs of new items, especially if they're created in-house, throughout the establishment. Striking images will promote the product and help create a buzz.
If you're business isn't buzzing yet, help create it with special pricing and promotions (see above). For take home items, other than the product itself, the most important thing is to brand them! Make sure all quarts, pints, cake boxes, bags, etc…. have your business's own logo prominently on them. You can get specially printed products, or just start with labels to test the market. Either way, getting your logo and brand out there and recognizable is one of the greatest benefits of take home novelty products.
You have the resources. You even have the customer base. Why not add take home novelty items to your arsenal to increase your sales and help grow your brand. In fact, with such an upside, the real novelty would be if you didn't add them today!
Which, you should do. No really, the sooner you start the better! Like, yesterday actually would've been better. Really, don't even read the last paragraph….
If you're still on the fence, unsure if it's the right step for you, or just have a few more questions, feel free to contact us at Sentry Equipment. We're here to help, and are happy to do so.
Sentry Equipment 800.853.8026