For nearly 30 years Sentry Equipment has been a leading distributor of Electro Freeze® frozen dessert equipment. From top to bottom, we handle the sales, service, parts, and marketing for all equipment offered. Electro Freeze has been in the frozen treat machine business since 1929. Electro Freeze® invented the pressurized soft serve machine, and twist feature, and provide the simplest, most efficient machines on the market today. No matter your product of choice – ice cream, frozen yogurt, gelato, Italian ice, shakes, frozen cocktails – or volume of business, there's a model to match your business.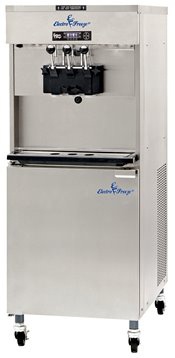 The Electro Freeze GEN-5400 is the highest capacity freezer on the market today. It's an extreme-volume, 2-flavor soft serve ice cream machine perfect for serving tons of product…. Fast! It has a separate cabinet compressor, along with individual Scroll compressor technology for each cylinder – maximizing capacity, yield, and efficiency. The 5400 features a front-loading refrigerated mix cabinet with (2) 7 gallon mix tanks to assist capacity and maintain liquid mix. With a high speed pump this pressurized machine consistently produces the highest quality, smooth and creamy high and low fat products like ice cream, custard, yogurt and sorbets, and capable of high end cake and novelty production. Excellent for high volume operations with full-menus, including ice cream and custard stores, sports arenas & stadiums.
Part of the Genesis Series™ of soft serve freezers, the 5400 features the Virtual Quality Management System™ (VQM) to streamline your business. Just some of the things that make the Genesis VQM System so special, and set it apart from other soft serve freezers include:
Multi-function LED display with manager smart tools.
Make product quality adjustments for various product types
Overall operational flexibility
Track product volume dispensed
Clean cycle indicators
Set alerts and security settings
In addition to the next generation aspects of the 5400, you'll still find Electro Freeze standard features you've become accustomed to that consistently provide the finest frozen product available in the industry. Smooth, creamy, and profitable pull after pull.
Patented Mix Transfer System
Flexible Mix Holding System Pumps
Exclusive Auger Design
Energy Conservation Mode
Superior Low-Temperature Refrigerated Mix Cabinet
Self-Closing Spigots
Last generation and next generation all add up to one of the most profitable pressurized high capacity soft serve machines on the market today. No matter the size of the crowds, or what you're serving – cups, cones, milkshakes, candy blend-ins, sundaes, or novelty – the GEN-5400 pumps out the volume and proves profitable every time.
Soft Serve Machine Profitability
Average selling price for 5oz soft serve: $2.75
Cost of goods with GEN-5400: $0.35
Profit per serving: $2.40
Profit on 50 servings sold per day: $120.00
Profit per month: $3,600.00
Profit per year: $43,200.00
Candy Blend-In Profitability
Average selling price for 16oz blend-in: $4.95
Cost of goods with GEN-5400: $0.95
Profit per blend-in: $4.00
Profit on 25 blend-ins sold per day: $100.00
Profit per month: $3,000.00
Profit per year: $36,000.00
Ice Cream Cake Profitability
Average selling price for 9" round cake: $22.95
Cost of goods with GEN-5400: $7.95
Profit per serving: $15.00
Profit on 50 cakes sold per week: $750.00
Profit per year: $39,000.00
As always, it all comes down to simple Economics 101: Price - Lower Cost = Higher profits. But, with the GEN-5400, you can also multiply those profits by the highest volume possible. The market sets the price, but you can dramatically increase your profits and volume by using the GEN-5400.
Backing the GEN-5400, as with all Electro Freeze® products, is the Sentry Equipment support system. Sentry's staff is filled with experts dedicated to helping their clients achieve success in the frozen dessert industry. Besides high quality and industry leading equipment, working with Sentry provides you a top notch sales & service team committed to education, consultation, training, and service.
For more information on the Electro Freeze GEN-5099:
800.853.8026
info@sentryequipment.net