10 Business Tips to Make More Money as an Ice Cream Owner
Sentry Equipment is a top ice cream machine distributor in the tri state area. As a leader in the industry, we believe it is our job to help our customers (ice cream shop owners) to grow and achieve the success they desire. As you may know, owning an ice cream / frozen desert business isn't always easy; many factors contribute to achieving success in this industry. Here are Sentry Equipment's 10 Tips for achieving success as an ice cream business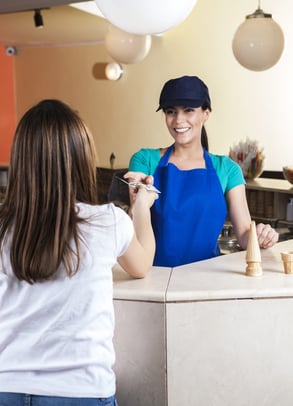 Have Your Store Branded
It's very important to have a good image and brand as an ice cream store. Having your employees being courteous to customers, following guidelines, and looking professional all are aspects of achieving a good image. You want your store to be inviting so customers experience a good time and want to come back again.
After your store has achieved a good image and achieved a process that allows you to keep that image consistent, it's time to start branding yourself. How do you brand yourself? Having a logo and displaying it inside and outside of your store is a good start. Other good suggestions are to feature your logo on merchandise such as shirts, cups, napkins, menus, and anywhere else you may want to people to see it.
Last participate in the community. You want your name to be associated with a good image and reputation. Participating in community events is a great way to improve image/brand and ultimately gain you more customers. Your goal is to change your store from "the ice cream shop in the neighborhood" to "the neighborhood's ice cream shop".
Get Visual With Your Menu
It's important to have aesthetically pleasing menu when running an ice cream shop. People are known to buy with their eyes. So a good practice is to display good looking images of your higher priced or specialty items on your menu. This practice will usually increase the sales of those items that you are featuring in your menu.
Look at the Semantics of Your Menu
Did you know that the labeling of your product sizes has an effect on the customer's decision on what to buy? A recent study showed that the labeling of sizes differently has an effect on the number of sales that you have and the amount of different sizes that you sell.
Small ------ 70% sales
Medium -------- 20% sales
Large -------------10% sales
Changing the names or wording of the sizes of the product can greatly change they way people buy. Here is an example of the percentage of customers who bought each size when the sizes were displayed differently
Kids ------- 55% sales
Regular ------- 30% sales
Large ---- 15 % sales
Larger sizes converted into sales means more profit for you!
Specialty Sundaes and Shakes
Rather than having a "create your own" sundae or the boring old 3 flavors that shakes (chocolate, strawberry, vanilla), look to create unique and engaging items in these categories to drive sales. For example, creating an "Oreo earthquake blast milkshake" would grab the attention of customer much more than a regular chocolate milkshake. The goal is to create a profit center with your specialty items allowing you to charge more.
Raise Your Prices
Raising your prices is a key aspect of staying competitive in the market. Your goal is to sell high quality products at while trying to achieve the correct price point. It may take some time to gather data to achieve the exact price point you are looking for. Don't drop your prices because of the competition either. If an ice cream shop down the street is serving its product $1.00 cheaper than you are there is no need to match the competition. Remember your product, service, and all around experience is better than the competition. Why charge the same price for something way better?
Greeting and Goodbyes
Talk to your staff about how to greet customers when they walk in and how to say goodbye when they leave. You want your store to be inviting, friendly, and fun! This may seem like a no brainer suggestion, but a disgruntled employee that is having a bad day could cost you a long term customer. So it's important train your staff on these minor details to make sure your customer is always satisfied with their experience at your shop.
Upselling
Training your employees to upsell or having them suggest products that would lead to higher profits is always a good practice in every retail business. Teach your staff when to upsell. It's important that you don't try to upsell on every single customer that walks through the door. Suggesting your customers to upgrade to large or adding sprinkles to an item is good practice when used in moderation.
Supplies and Cost of Product
Take a good look into how much you are spending on the supplies. Buy smart! Sometimes buying in bulk can be more cost effective than buying the product every time you run out of one. Many suppliers also have discounts for prompt payment or bulk packages. Trying to lower your supply cost by 2-4 % can have a huge benefit on your profit line at the end of the year.
Be Daring
When owning a business it is important to always try new things when attempting to attract customers. Some good ideas that you may want to consider include: Fundraisers, Sponsorships, Christmas in July, Customer Appreciation Day, and celebrity visitors. Any kind of event that you think will get customers in the door, give it a try! If the promotion doesn't work, you will know for the next time to try something different.
Talk to your customers
No one knows what the customers like better than the customers themselves. Ask your customers what they think about your ice cream establishment. Ask for feedback and suggestions. Why search for different solutions when your customers can provide you with the answers if you only ask.
Hope you enjoyed our 10 Tips on succeeding in the ice cream business. For more information or advice give us a call at (856) 853-1967