Whether you are considering adding a frozen dessert service to your already-established location or are looking to launch a brand-new business offering soft serve ice cream, one of the most important aspects of your due diligence checklist is deciding on the type of soft serve equipment in which to invest. Do you opt for the latest equipment on the market and buy it brand new, or do you choose gently-used, previously-owned equipment?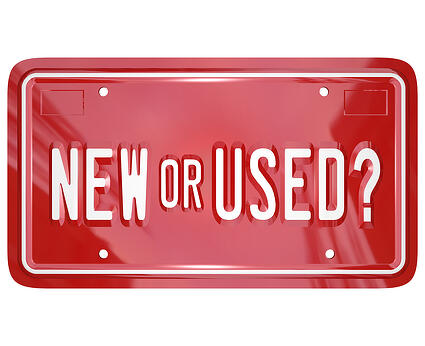 Here's a look at some of the benefits of both options.
Benefits of Buying New Equipment
First Owner Privilege
As with anything brand new, there's an innate sense of confidence and reassurance from the "get-go" that you are getting a pristine product of which you know the history. As the first and only owner, you don't have to wonder or worry if the equipment has been previously damaged in any way, is missing integral components, or has certain idiosyncrasies from previous use that you'll only be able to discover long after you have the equipment set-up in your business.
Latest, Cutting-Edge Equipment
Purchasing new equipment means you'll be getting the latest, most high-tech, state-of-the-art machinery available on the market. The Fuzionate™ Freezer, for example,is Electro Freeze equipment that is the industry's first fully-integrated frozen dessert machine capable of creating nearly 10 different soft-serve flavors. Older, larger equipment that offers only a few flavors usually means you need to reserve much more space at your location; just the opposite is true with this 21st century technology. The Fuzionate™ Freezer takes up less space while offering more options for your customers and a higher profit margin for you. Used or older equipment can't always provide those same benefits.
User/Operator Training
Learning how to operate, clean, and maintain your equipment is a benefit that comes with purchasing brand new machinery. The equipment's manual and (ideally) your provider will teach you everything you need to know to run your equipment safely, confidently, and properly.
Full Warranty
New equipment comes with a full warranty from the manufacturer. They'll back their new equipment – providing replacement parts and service you often can't get with used equipment.
A Big Selection
When you buy new, you have a variety of choices and can pick the best equipment for your particular location's space. When you purchase used equipment, you don't have that same luxury; instead, you have to hope that the equipment you happened to find for sale when you were looking for equipment will fit somehow, some way, within your store's square footage.
A Good First Impression
Making the investment in new equipment clearly demonstrates to your customers that you are serious about your business and choose to use only top-of-the-line machinery to create your products. A sharp, shiny, well-working piece of equipment in your business is more appealing and draws more positive attention than one with missing components or parts or that can't be counted on to function perfectly 24/7. Customers are loyal to establishments that clearly care about their company and put money back into the business. There's nothing less appealing than going into a store where everything is run-down and not well-maintained. If the owner doesn't take pride in his/her capital equipment and doesn't care about the aesthetic appeal of the business, how can a customer expect or hope to receive a consistent quality product from that business?
Benefits of Buying Used Equipment
The Price
The biggest benefit of choosing previously-owned equipment is the cost. As with any product in any industry ~ whether it's a vehicle, the season's latest fashion, or a recently-built home, you are going to pay more for a brand new item than you will for one that is a used, a few seasons old, or has been on the market for quite a while. So, if cost or credit is a deciding factor, investing in used equipment might be the better option. If your intent, however, is to be in the frozen dessert industry for quite a while, you might reconsider the benefits of starting off with brand new equipment that can be properly maintained throughout the years and where you don't have to worry about making further investments in additional or replacement equipment should your used equipment not holdup.
Service, Warranty, & Training
The provision of ongoing equipment service, warranties, and training only pertain to used equipment that is purchased through a frozen dessert equipment company that offers these benefits.
So do you invest in new or used equipment? While there is no single, appropriate-for-everyone answer, there is one universal principle that does apply to all soft serve ice cream entrepreneurs looking for soft serve ice cream equipment: purchase it only from a reputable, well-established, service-oriented soft serve ice cream equipment company that stands behind all its products ~ new and used ~ and is a leader in the industry.
Sentry Equipment sells both new and used equipment. However, used yogurt equipment or used soft serve machines from Sentry are fully reconditioned both cosmetically and mechanically. Their line of used frozen dessert equipment comes with a full warranty and the backing of their industry leading service. They are the company that sells the equipment and services it, so rest assured, they will first ensure the machines are in great shape and back it up if there is after sale service required. In addition, whether you buy new or used equipment, you will still be able to take advantage of the many consultative resources Sentry provides as part of the sale.
Buying from a company like Sentry is worlds apart from buying a machine off an independent owner, or even worse, the internet. Those avenues are truly buyer beware with no safety net should something go wrong.