For nearly 30 years Sentry Equipment has been a leading distributor of Electro Freeze® frozen dessert equipment. From top to bottom, we handle the sales, service, parts, and marketing for all equipment offered. Electro Freeze has been in the frozen treat machine business since 1929. Electro Freeze invented the pressurized soft serve machine, and twist feature, and provide the simplest, most efficient machines on the market today. No matter your product of choice – ice cream, frozen yogurt, gelato, Italian ice, shakes, frozen cocktails – or volume of business, there's a model to match your business. The Electro-Freeze Genesis™ Series SLX400E with Virtual Quality Management System™ (VQM™) is the next step in the soft serve machine industry, combining old school product with new school technology.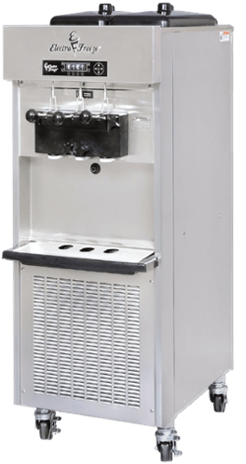 The SLX400E Gravity Machine uses Isaac Newton's basic principle of gravity to serve frozen desserts. You start by pouring the mixes in the two 2 ½ gallon hoppers on top that use cold wall refrigeration to keep the product cold. From the top, the machine simply utilizes gravity to flow the mix down into the freezing cylinder. Old concept - new use.
Enjoy the flexibility to offer your customers smooth and creamy yogurt, ice cream, custard or sorbet consistently from a small 22 inch wide footprint – allowing you more room for other equipment, or more units in a smaller space. The SLX400E slim-line soft serve machine produces the best tasting, highest quality frozen dessert - perfect for QSRs, retirement villages and hospital cafeterias. It's also ideal for having frozen desserts as a secondary item, or featuring soft serve & yogurt products in a cafeteria, snack stand, school, restaurant or buffet setting.
The SLX400E featuring VQM is part of the next generation Genesis Series of soft serve freezers. Some of the things that make the Genesis VQM System so special, and set it apart from other soft serve freezers:
Precision dual Smart control monitors temperature and consistency to provide superior taste & quality
Scroll compressor technology for each cylinder maximizing capacity, yield & efficiency
Simple multifunction LED display with manager smart tools
Ability to adjust product quality settings for various product types giving flexibility to your operation
Track product volume dispensed, clean cycle indications
Set alerts and security settings.
Meets ADA specifications for self-service applications
Besides all the high tech wizardry, you'll still find Electro Freeze standard features that you've come to expect and rely on, consistently providing the finest frozen product available in the industry. Smooth, creamy, and profitable pull after pull.
Exclusive Auger Design
Energy Conservation Mode
Self-Closing Spigots
The truly revolutionary aspect of the SLX400 is the Genesis Series VQM System. The VQM allows you to monitor every aspect of your machine from virtually anywhere in the world. Besides the multi-function LED display with manager smart tools, there is the remote functionality Genni App which gives you all the same control on your smartphone or iPad!! Just imagine, after leaving for the day, if you were unsure if you put the machine in Night mode or not – now you can check and change with a few quick swipes & touches.
The touch screen displays all of the machine's functions, can monitor & change the temperature of products, and can monitor the machine's status. In the morning when you come in, you simply touch the Snowflake and the machine will turn on and get ready for the day. When you're ready to leave, you touch the Moon and the VQM will put the unit into "night mode" keeping the product refrigerated without freezing. There are 5 settings that come as default from the factory on each unit:
High Butter Fat Content – e.g. ice cream
Low Butter Fat Content – e.g. iced milk
No Fat Content
Yogurt
Alternate
You can change the settings of each cylinder just by pushing a button. For instance, if you want to change from a sorbet (higher risk of freezing) to ice cream (higher fat content product/lower risk of freezing), you simply make the change on the display, and the VQM will make all of the necessary adjustments for you – internal settings, temperature change, etc.
Remotely, via the Genni App, you can monitor your machine or machines from anywhere. You can adjust settings or get alerts that you set. For each machine you can check the STATUS, PRODUCT, SETTING, HOPPER TEMPERATURE, & MIX LEVEL of each cylinder!! There is also a "Scheduler" page where you can check on (or be alerted to) whether the condenser or filters need cleaning, or if you need to replace scraper blade, O-Ring Seals, Belts, or Lubricants. You can check cycles. You can check machine cleanings. You can get machine history by Day, Week, Month, Year – How many handle pulls? Was it cleaned? All of these examples are just the tip of the iceberg – there's so much more to explore and discover. The Genni App provides you with all the information you need anywhere, at any time giving you the freedom and power to grow your business.
If all that is not enough, and you still need more convincing, how about cold, hard numbers….
Soft Serve Profitability
Average selling price for 5 oz. soft serve: $2.75
Cost of goods with SLX400E: $0.35
Profit per serving: $2.40
Profit on 50 servings sold per day: $120.00
Profit per month: $3,600.00
Profit per year: $43,200.00
Yogurt Profitability
Average selling price for 6 oz. yogurt: $3.25
Cost of goods with SLX400E: $0.45
Profit per serving: $2.80
Profit on 50 servings sold per day: $140.00
Profit per month: $4,200.00
Profit per year: $50,400.00
As per usual, Economics 101 prevails: Price - Lower Cost = Higher profits. Jump-start your business in a small footprint today!!
Backing the SLX400E, as with all Electro Freeze products, is the Sentry Equipment support system. Sentry's staff is filled with experts dedicated to helping their clients achieve success in the frozen dessert industry. Besides high quality and industry leading equipment, working with Sentry provides you a top notch sales & service team committed to education, consultation, training, and service.
For more information on the SLX400E Genesis Series featuring VQM
800.853.8026
info@sentryequipment.net