Every year around this time we encourage our customers to begin the winterization process for all of their Electro Freeze equipment. The winterization process involves removing all of the water from the inside condenser of your equipment. The reason it is vital because if there any water inside the machine (even just one drop) it can freeze up and ruin the condenser, the compressor and/or the refrigeration system. Damage to any one of these components can render a machine obsolete or at the very least, cost thousands of dollars to repair those components.
Why Winterize
To put it in perspective, Just a single drop of water left in your refrigeration system can ruin a machine. When we winterize a machine, we completely remove all of the water from the machine - it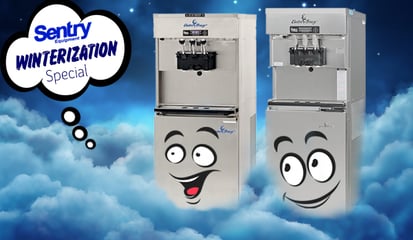 doesn't matter how cold it gets - your equipment is safe for next season. Even if you keep the heat on in your building during the winter, we still recommend winterizing the equipment. There are things that you can't control such as the power going out or the heater breaking. That 3 or 4 day window when things are down could be enough to freeze any water.
We run a winterization special every year. This year you can get all of your machines done for one low price of $169.00. We come to your store and winterize all of your Electro Freeze machines, no matter how many you have. It's a small price to pay now that benefits the equipment and the components for the next season.
Why Use Sentry
We'll not only remove all the water from your machines but we'll inspect each machine, including the belts and other components, to let you know if there's anything you need to address. Best of all, we guarantee it. If anything happens during the winter months, we cover it 100%. We encourage you to call us (click the button) to schedule ahead if you know when your close date is. The service takes only about an hour to complete.
Scheduling the service now can alleviate large issues, bills and problems come opening day next season.
Make sure your equipment is prepared to go in spring. Schedule now by calling or clicking the image below.