For nearly 30 years Sentry Equipment has been a leading distributor of Electro Freeze® frozen dessert equipment. From top to bottom, we handle the sales, service, parts, and marketing for all equipment offered. Electro Freeze has been in the frozen treat machine business since 1929. Electro Freeze® invented the pressurized soft serve machine, and twist feature, and provide the simplest, most efficient machines on the market today. No matter your product of choice – ice cream, frozen yogurt, gelato, Italian ice, shakes, frozen cocktails – or volume of business, there's a model to match your business.
The CS705 Gravity Shake Freezer is a compact, 5-flavor frozen dessert machine that specializes in three different product types – milkshakes, smoothies, or frozen cocktails. It features five-flavor flexibility with the push of a button and no CO2 required. A simple rinse button eliminates flavor carry over, and allows you to dispense any size shake, any flavor in seconds with no product waste. Some advantages: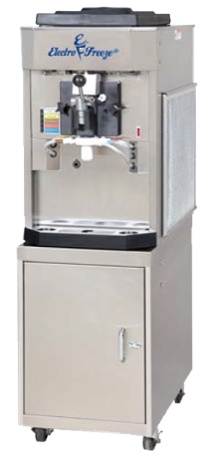 Quick connections for vendor syrup bottles.
Easy syrup adjustments.
Exclusive Auger Design to maintain product quality & consistency.
Consistency control.
Washable air filter.
Commercial Grade Cabinet is sturdy & washable.
Fewer parts to disassemble and clean.
Compact for limited space availability.
All of these features make the Electro Freeze CS705 the machine for new ventures into the world of frozen drinks, or fast-paced establishments wanting to serve the best flavored milkshakes, smoothies, or frozen cocktails around. Simple flavor changes make seasonal menu changes efficient and profitable. The CS705 may not be the newest or flashiest model available, but its proven track record make it one of the most reliable machines on the market today. With multiple flavor options and a small footprint, minimal spaces can produce maximum profits.
After all, in the long run, sales & profits are exactly why we're all in the business today. And this machine produces….
Shake Profitability
Average selling price for 16oz milkshake: $4.50
Cost of goods with CS705: $0.85
Profit per shake: $3.65
Profit on 20 shakes sold per day: $73.00
Profit per month: $2,190.00
Profit per year: $26,280.00
Smoothie Profitability
Average selling price for 16oz smoothie: $5.75
Cost of goods with CS705: $0.95
Profit per shake: $4.80
Profit on 20 smoothies sold per day: $96.00
Profit per month: $2,880.00
Profit per year: $34,560.00
It all comes down to simple Economics 101: Price - Lower Cost = Higher profits. The market may set the price, but by using the CS705 to keep your overall costs low, your profits can soar.
Backing the CS705, as with all Electro Freeze® products, is the Sentry Equipment support system. Sentry's staff is filled with experts dedicated to helping their clients achieve success in the frozen dessert industry. Besides high quality and industry leading equipment, working with Sentry provides you a top notch sales & service team committed to education, consultation, training, and service.
You choose the flavors, the CS705 dispenses the profits!