There's a trend taking the frozen dessert world by storm and they're called freak milkshakes.
Freak milkshakes are kind of like milkshakes in disguise in that they are milkshakes but so much more than just your standard vanilla, chocolate or strawberry milkshake. Freak shakes are milkshakes taken to the next level.
Stand alone milkshakes are a highly profitable item and if you're not selling milkshakes in your food establishment then we highly recommend you do so. Not only are milkshakes one of the best selling desserts of all time, but the cost of a shake to produce will run as low a $1-2 while you can turn around and sell a shake for anywhere around $4-5 depending on your market. And that's just for a regular milkshake. If you took that milkshake to the next level and turned it into a freak shake then you could sell it for even more money.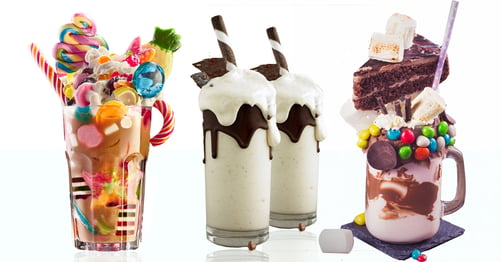 Freak shakes are milkshakes paired with or contained with a collection of extra goodies. Freak shakes can really be anything. You're only limited by your imagination. I mean who wouldn't pick a chocolate peanut butter milkshake with peanut M&M's, marshmallows, pretzels, whip cream, chocolate sauce and a fudge brownie on top over a vanilla shake? Essentially freak shakes are a creation of whatever you want it to be. Throw out the rule book on this one. If you want to use a collectors mason jar instead of a cup to serve it in or include only ingredients that sell the best among kids like cotton candy then go for it.
Specialty Shakes. If the thought of creating a monster like a freak shake is too daunting and you don't want to offer them then at least consider making your own special flavors of milkshakes in house. You can keep the traditional flavors of chocolate, vanilla and strawberry if they're selling but offer other creative flavors in addition. Whether it be seasonal or permanent flavors try to be creative and deliver a recipe driven menu. A customer should come in and say "I want that" just from looking at your menu or display. Once they try it, they'll be back for that Oreo Mint Grasshopper shake that you created because it's the only place they can get it.Selling freak shakes is a visual experience and taste experience. Color can attract a person eye and the more color you can pack into your freak shake the more enticed the patron may be to try it. People are buying an experience and the experience must look delicious and more importantly taste delicious. They need to remember it, you need to create a buzz around it. That way, when you charge $12 - $15 per shake the customers won't even bat an eye. If you are an establishment already serving milkshakes and you have an sit-down / eat-in or take-out area, creating and offering these freak shakes to your customers can really help increase your daily profits.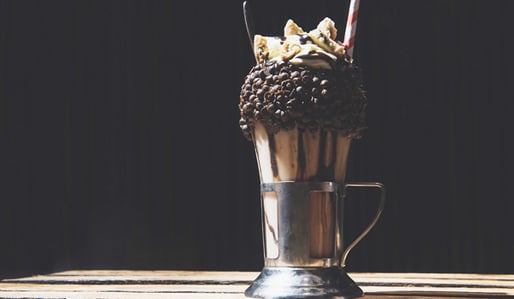 Adult Shakes are something that you could offer if your entity has a liquor license or permit for alcohol. Adding alcohol to shakes is a way to increase profits like no other. We've already seen the results of establishments offering adult shakes to customers 21 and over. The result, hundreds of milkshakes sold in one weekend...and many happy customers. Alcohol shakes aren't just popular at events and attractions but can also be an added bonus during any holiday. How about a spiced rum infused Eggnog shake for the winter holidays or a real adult shamrock shake with some Jameson Whiskey and Bailey's for St. Patrick's day...Sláinte!
If you take alcohol and pair it with the fact that milkshakes are the number one dessert for men...you might be onto something. Milkshakes and alcohol, a match made in heaven for men and a win-win for you. If you're in a position to offer alcohol then creating an alcohol infused milkshake line for your customers will help you sell more shakes and increase your bottom line. If bartender is not in your repertoire, then reach out to us. We've helped many entities develop and create alcohol infused milkshake recipes.
Your recipe for success this month is to take your milkshake creation skills to the next level and develop a milkshake / freak shake line to offer your customers.