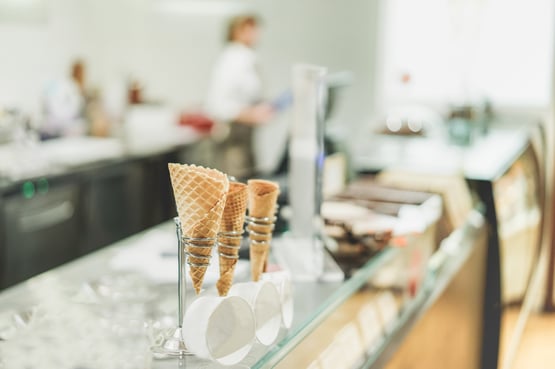 As promised, we're back with Part 2 of our preseason planning blog. Sentry Equipment wants to make sure you're doing everything you can to ensure a successful busy season for your ice cream business.
In Part 1 we talked about the prices of your ice cream products (raise them!) and the addition of novelties to your menu. Updated pricing and an extended menu are two ways for your business to make more money.
In this blog, we'll discuss two final elements to consider in preparing for the seasonal opening: re-training your staff and getting involved in the community.

Retrain yourself and your staff
In the chaos of trying to run a successful business, it's often useful to take a step back and look at the big picture. Any business should provide two things: a great product and a great customer experience. Product and experience. So, what can you do in the run-up to your store's opening to focus on what the customer wants when she comes to your store?
The first thing you can do is get on the other side of the counter and play the part of the customer. Make sure you like your product! Maybe it's been awhile since you've tried your product, or maybe you taste it every day. Either way, tasting as a customer can be a different experience.
Worried about your own bias? Recruit some trusted friends and family members to try out your different products. Be open to suggestions. Consider changing something about your product, even if you've always done it a particular way. Negative feedback is essential in learning what could be better about your product from the customer's perspective.
After you've run an audit on your product's quality, it's time to take a look at the typical customer experience. This is where you might want to consider gathering your staff to remind them of what great service looks like. The most basic service tricks go a long way. Does your staff greet customers as they enter the store? Are your workers happy? Do they offer helpful suggestions and personal opinions instead of simply taking orders?
When refreshing your staff on how to treat customers, make sure to ask them for suggestions! It's likely you spend a lot of time worried about business operations and could use your lower level employees' perspectives. Routinely asking for your employees' ideas is a great way to produce better customer service and a more open culture of communication. When employees have a say, they feel more valued, they work harder, and they feel more comfortable in their work environment, which is evident to a customer.
What's next? After you've made sure your product and experience is line with what customers want, turn your attention to the details. The preseason is the time to make any changes to your staff's uniforms, store décor, or variations in the menu. Something as small as having a fresh supply of aprons with your store's logo on them can make all the difference in the world. Not only will your staff look professional, but you won't have to worry about a low supply when you become busy.
Finally, don't forget to check what's going on with your web presence. Your website and social media are critical for customers to find out about you or find more information. If you don't have the time or resources to handle your web presence yourself, consider hiring an inbound marketing team to manage it for you. In today's age of technology, neglecting to update your website and social media is one of the surest ways to see your business go downhill.
Get involved in the community
Making a name for your business in the community is the last of our four pieces of advice for this year's preseason planning.
When I was a kid playing rec basketball, sometimes the team would go out for ice cream after a game to celebrate a win. Everyone grew up loving that store, its product, and the feelings associated with it. In turn, that shop was the same one I frequented with my family on the weekends, and with my friends when I got to high school. If you can establish your business as one of the go-to places for the people who are active in your community, your business can grow exponentially.
How do you make your store a community hub? Guerilla marketing. Any time there is an opportunity to sponsor the local girl scouts chapter events, community sports league gatherings, PTA meetings, religious group meetings, or anything similar, DO IT! Even if it costs you a little time or money, it's normally worth it. Not only will you win the immediate foot traffic from the organizations you sponsor, but you'll earn a good name in the community. Everybody appreciates local businesses when they pitch in with community efforts.
There are plenty of marketing techniques you can use to get your business to be a bigger household name among locals. For one, flood your market with coupons. Coupons are great for incentivizing customers to take a step in your store for the first time. Not only can you plant paper coupons around towns, in newspapers, and in your store, but use your social media! Using your digital platform to post coupons, upcoming events, and special deals is a great way to get people talking about your business.
Especially important for ice cream shop preseason planning is letting your customers know what's new. Post your new (or existing) menu online to get people excited about your store's opening. If you have a few events you'll be hosting in the coming months, create a calendar with those dates to let everyone know what you're up to. Something as simple as updating your Facebook, Instagram, Twitter, or website is an easy but powerful way to remind people to stop by your store this season.
That's all for this year's preseason suggestions to improve your frozen dessert business. If you would like to learn more about how Sentry Equipment can help improve your products or service experience, give us a call.
(856) 853-1967