Hey everyone, spring is slowly creeping around the corner. And that means…it's almost time to reopen your ice cream shop! Now is the time to start planning to make sure this season goes smoothly.
Last year's preseason planning blog focused on equipment, store aesthetics, menu, and organizing a marketing calendar. Paying attention each of those items is instrumental in ensuring a successful reopening, so feel free to go back and read that post at: http://www.sentryequipment.net/blog/pre-season-planning-part-1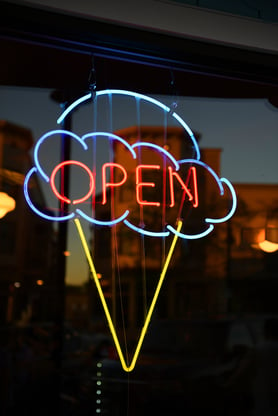 This year we will focus on four key elements in implementing your preseason plan: price setting, novelty products, training, and community involvement. In this blog post, I will cover the first two: price-setting and novelty products.
Raise your prices
Don't think too hard about this; just do it! Many ice cream shop owners have trouble precisely pricing their products to maximize revenue. Many new store owners base pricing on competition alone. Of course, you know your business model and clientele best. But if your shop prides itself on the highest quality, why sell yourself short? Why charge the same as the run-down parlor down the street when you provide a higher quality product, better customer service, and a superior atmosphere? Better product, charge more!
At this point you may be thinking that raising your prices may decrease the foot traffic to your storefront. Maybe you have a point. So, try adjusting your product by a small margin to start. An extra 15 cents or quarter will make a tremendous difference to your bottom-line but is usually unnoticed by the customer.
Studies show that even if you raise prices 10-15% per year, you will still have the same percentage of customers complaining about high prices as if you didn't raise them at all. This is something to take into consideration when determining the correct price point for a product. The longer your business has been up and running, the more data you can reference to determine the correct price point for each of your products. If you do happen to lose a customer, it is most likely due to another reason rather than price. If you make price the reason for losing customers, than you will ignore the real reasons your customer base is shrinking. Most likely customer service, cleanliness or product quality.
In terms of deciding exactly how much to charge, set aside some time to think clearly about it before your spring opening. Analyze 2016 numbers to ensure the price raises you choose make sense and will lead to more profit. Looking at your expenses can help you decide where to boost the price. If your supplier increases the price of an ice cream cone, adjust the price of your final product to the consumer accordingly.
As a business owner you should know what each product costs you so you can figure your gross profit on each menu item. It may surprise you how little or high your gross profits may be. Information is power. Analyze the results and adjust accordingly. It's not good to have a highly popular product that is not profitable! The difference between a good season and a great season can merely be the right prices on your menu.
Look to Novelties
Now let's move on and talk about novelty products. What are we really talking about when we say novelties? Novelty products are based upon items your customers can take home, put in the freezer and eat at a later date. Examples include quarts, pints, half-pints, cakes, cookies, ice cream sandwiches, etc. Take a look down the ice cream freezer aisle at your local supermarket. Five years ago the aisle was filled with half gallons of ice cream. Today, half gallons only occupy a small portion of the aisle. The rest is stocked with pints, quarts, cakes, cookies and other novelty offerings. The same offerings you should be promoting at your location.
Does your store have any novelty products for sale? If not, consider offering some and creating a profit center around novelties! One purchase can often turn into two when a customer comes in for a cone and leaves with the cone as well as some novelties that caught his eye. Novelty offerings help move inventory, create larger purchases and, most importantly, help build your brand. Two days after their store visit, your customers are enjoying your product out of your branded container in the comfort of their own home.
If you do have novelty items for purchase already, you have the luxury of changing them around. Which items are selling the best? Consider offering more variety of the best-sellers. Introducing new products and discontinuing the ones that aren't profitable should be easy once you have the data to see which products are going over well. Selling novelties that your customers love can differentiate you from competitors and increase your bottom line.
You might be concerned that selling novelties won't make sense in the type of ice cream shop that you run, like a walk-up store. A common misconception is that you should only sell novelties if you have the facilities to display them front and center. Studies show that this is not necessarily true. If you list some of these products on your regular menu or promote them in another way, you should see an increase in profits compared to when you didn't have those products. For example, branded POP material done tastefully with decorative pictures can promote your novelty program outside your window.
Finally, novelties help build your brand! They allow you to stay in your customers' minds even when they aren't physically at your storefront.
Example: If you sell pints and quarts of your specialty ice cream to consumers as a novelty product, they will take those items home and store them in their personal freezer. Once they get an urge for a sweet treat, they will open their freezer and see your brand. Maybe a week later that same customer may be on their way home from work and get that same urge for a asty treat. Guess what company pops into the customer's mind? You guessed it, yours! Novelty products work as a marketing technique as well as an extra profit-generator.
To implement a personalized novelty line, making your own water ice and/or ice cream is a must! Even if you already do, get some ideas to improve by giving us a call at (856)853-1967, or check out our YouTube demonstrations at:
https://www.youtube.com/watch?v=JDVZjOAKgO0&list=PL2QcQ5ulfjzdwCDAi_2blfp-iQRt2WIuY
Other suggestions from Sentry Equipment to explore when implementing the novelty program include:
Sampling your products - Offering free samples is a great way to help drive sales and engage customers in your novelty program

Placement of your products – Customers are more likely to participate in your novelty program if the products are displayed well (Though not entirely necessary if you have limited space, as mentioned earlier)

Unique offerings – People love to try something new! Differentiate your shop by selling some truly unique products. Some ideas to get you started include offering party trays of dipped pretzels, cookie sandwiches, creative cakes, or cookie dough bites.
That's all we have for this blog. Please stay tuned to see our Part 2 section of the 2017 preseason planning to get more ideas for success this year in the ice cream industry.