When Linus explained the mythology of the Great Pumpkin to his oft-maligned, bald pal, he left out the part about the holiday icon's quest for world domination. If you've ever been in a coffee shop, restaurant, or really anywhere after Labor Day, you know what I mean – The Great Pumpkin rules all! With Fall and the end of Summer rapidly approaching, be sure to change your menu to reflect the season, and create autumnal promotions and community projects. Now is the time to make sure you have the promotions in place, and new flavors ordered to greet the new season.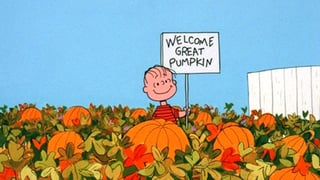 Flava-Flav!
"There are three things I have learned never to discuss with people: religion, politics, and the Great Pumpkin!" explained Linus Van Pelt so many years ago. I would heed his advice when you stop wearing white this year. Pumpkin-spiced items are either loved or hated, rarely do you find a 'tweener. But, as you tell from the shelves, carafes, menu boards, love triumphs. From ice cream to coffee, and all points between, pumpkin flavored treats have taken over Autumn and every other season. If you are not featuring Pumpkin flavored frozen desserts, you're not competing. Once added to your flavor menu you can keep it going at least through Christmas, if not all year long.
But, much to Linus' chagrin, Fall is not just about Pumpkin, though. When choosing your autumnal arsenal first think of other desserts that people indulge in at this time of year. Then think of the ingredients that make those treats so good, and use them to guide your flavor selections. Besides the actual flavors, use this same thought process to order ice cream and sundae toppers, candy blend-ins and novelty products – don't forget about smoothies and shakes too. You need to rollout an array of seasonal flavors and items that fit the time and your market. Especially if you make your own ice cream or have flavor options for your soft serve equipment. Introduce multiple flavors, mix and match, and be creative. Create a buzz around your fall lineupfor your business – make your store Fall Headquarters!
Some ingredients to look for and ponder:
Pumpkin – pumpkin butter pecan, cheesecake, etc.
Butternut Squash
Sweet potato
Coffee/Expresso
Maple – with pecan?
Brown Sugar
Apple/Apple pie – not sour!
Sauce EVERYTHING! Caramel, Maple Syrup, etc.
Nuts – Walnuts, Pecans, etc.
Craisins, Candy Corn, toasted marshmallows, etc.
Spices – Cinnamon, Nutmeg, Ginger, etc.
Any or all of these flavors would make great fall additions to your menu as primary frozen desserts or as toppings. You may also want to create special combinations - unique to your store - for the season, Sweet Potato w/toasted marshmallows or Butternut Squash w/caramel sauce, or…. You get the idea, now start creating and ordering!!
Be True To Your School
Fall means football. And soccer, lacrosse, field hockey, track, fall ball, etc…. This is the time to get back involved with the local teams, coaches, and schools. Everyone is gearing back up, with the teams already practicing and the parents & teachers already dreading the daily grind. Sports & school always have opening days and events that are a perfect fit for your business. Some ideas to get involved:
Sports
Be a sponsor for the fall season
Bring product/coupons to their opening night
Schools
Offer product and support for back to school nights
Get involved with PTA from the start of the school season – could also help you later in the year
Fall also means holidays are coming, from Halloween to Christmas, they're looming on the horizon. Develop a novelty and take home product segment for the upcoming holiday seasons. People are always looking for new and creative ideas for gifts to hand out or bring to fall events. Remember, customer count is down in the fall, so this is your chance to upsell by pushing your higher ticket items and fall lineup:
Gift baskets built around coupons, products, and other treats
Pints of your fall specialty flavors (only at a higher price point, so make it special)
Ice cream pies, cakes for Halloween, thanksgiving, Christmas, etc.
Push your novelty, cake, pie program - even if you are not open for business, you can still produce take home products all winter long. Just offer a brochure & post on social media with order info (phone, email, etc)
Social Distortion
Which brings us to social media. Do it! In 2016, if you do not have a website and a page/account on Facebook, Twitter, Pinterest, Instagram, and/or Google +, you are not competing. When was the last time you had a customer who didn't have their smartphone in their hand or readily available? When YOUR store could be in their hand or pocket! Websites are a necessity, and social media is an easy, cheap (free) way to be at your customers' fingertips at all times. If you're feeling really ambitious, create a smartphone App that will keep you on the front page of your patrons' mobile devices!
Now that the crazy summer is behind you, and the kids are back at school, it's time for you to get to work too! Do a walk-through of your store, and see if your store has at least 5 points of branding:
Outside Signage
Storefront/Window Signage
Proper "head-to-toe" Uniforms – every employee should, basically, look the same.
Branded Menu Boards – Up-to-date, modern, and changeable. Digital?
Logo Cups/Napkins
Logo Rugs/Mats
Logos on the wall, and incorporated into the décor – think color scheme.
And while you're at it, get ready to decorate for Fall. Have you been to Costco or Home Depot recently? They already have their Halloween gear out. Whether you like to decorate or not, your customers like it! You don't have to overdo it. First, size up your storefront and store. The last thing you want to do is crowd your entrance or floor – decorations should NEVER impede your customers from buying!
You can get away with decorating your store once for the Fall-Halloween-Thanksgiving season. Simple is best. In terms of colors, use orange as the primary, then fill out with browns, yellows, even burgundy, and other earth tones. You can add some black for Halloween, but be sure to remove it November 1st. A nice setup of a couple of hay bales, a cornstalk or two, and a few pumpkins puts you in the clear through Thanksgiving. If you have the room and enthusiasm, add some more pumpkins of varying sizes or some multi-colored gourds. And, mums are ALWAYS a crowd pleaser this time of year!! Just remember: don't overload your store, and don't crowd your customers.
This should be enough to get you started and running successfully into Fall. However, another thing to remember is that you'll be coming up on shorter fall hours and you need to staff accordingly for the slower months - adjust staffing and hours to maximize profits.
This is the time of year you can start to catch up on all of those brilliant ideas you had over the summer, but didn't have time to act on. You've had time to catch your breath. Now it's time to get back to work, because Summer is right around the corner….
If you need a little push, or just need someone to bounce ideas off of, don't hesitate to contact Sentry Equipment. They're there to help, and would like to….
Sentry Equipment 800.853.8026