One of the products we like to talk about most to our customers and new customers is milkshakes. And one of the reasons why is because they are so profitable. Milkshakes can pair well with most foods and can be sold year-round unlike other desserts such as ice cream or water ice.
There are two ways to make a milkshake. One is with hand-scooped ice cream, milk, and flavoring. The other is with soft serve, milk, and flavoring. Both get blended to perfection until they are ready to be served. Not only are milkshakes profitable due to their longevity of sell time, but they are also profitable due to how well they pair with other items such as cake, pizza, pie, or burgers.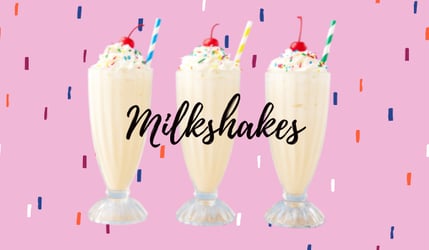 Because milkshakes pair with just about anything, they are the number one dessert item for men. You can make a shake for anywhere between .90 - $2.00 and turn around and sell it for big profits. Get creative with the name and ingredients for even more profits.
Generally, the push back from restaurant staff, and owners, on why they don't push them more is the time and mess involved in making them. However, with a small investment into the right equipment, you can eliminate these objections and any inconsistencies in the process. So, is a shake machine worth the investment? You get portion control, consistency, efficiency with little waste. Plus the added time to make big profits. The answer is yes.
Another advantage to serving shakes is that you can take advantage and capitalize on seasonal trends. Make pumpkin ice cream during the fall, mint for the holidays or even adult alcohol-infused shakes for St. Patrick's Day.
With our machines, you can raise the value of every check. Go from vanilla to chocolate or any flavor with no cleanup or waste. Pull the handle, flip a switch and you've made a shake.
Want to learn more about Milkshake profits and products, check this out!
See how many milkshakes you can make in 3 minutes?