"School's out and it's sort of a buzz…." Whether you prefer Will Smith's version of "Summertime" or Ella Fitzgerald's, Janis Joplin's or Billie Holiday's, maybe you got the "Summertime Blues" or it's "Hot In The City", all that matters is it's getting hot, and people are going to consume A LOT of frozen desserts. Everyone has their favorite - Ice Cream, Yogurt, Soft Serve, Gelato, Smoothies, Italian Ice, or Ice Cream cakes and sandwiches. In all their forms, it's the time of year when frozen treats are the appetizer, entrée, and dessert! So, how do you drive business to your establishment and maximize your sales? Strategically….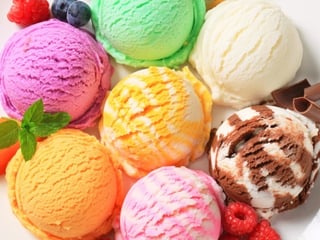 First, you must know your customers. If you're a shore business, you are dependent on the whims of the tourists, and the cycles of traffic they produce. All of your marketing strategies and energies should be focused on Friday through Monday, Memorial Day to Labor Day. If you're a year-round or residential business, you should be tweaking your menu to reflect the season and promoting summer products, events, and specials. For either type of establishment, start with flavors.
Appropriate seasonal flavors & colors can drive your business. It's summertime! Think light, refreshing, and fruity, even tropical - strawberry, pineapple, mango, watermelon, and key lime are good starters. Obviously, you're going to keep the classics and best sellers, but round out your case and menu with refreshing new flavors. If you're feeling creative, try coming up with your own flavor – something people won't be able to get anywhere else – or even poll your customers to see what they're craving. In addition to the flavors, mix it up with new product categories like ice cream cakes, sandwiches, and novelty products. Now, don't stop summer-izing with just the edible aspects of your business! Accessorize your store with vibrant colors and use the same scheme for advertising and promotions. Promote your new flavors with your new colors, and offer specials to get people in the door. The added flavors and bold look will help retain regular customers and attract new ones.
So, it is summer and everyone is out of the office. Out of the house and away from their TV's and computers. But, when was the last time you saw someone without their smartphone in their hand or readily available. Take advantage of technology!
In 2014 mobile internet usage overtook desktop usage.
Almost HALF of Google searches are now being performed on some sort of mobile device.
Mobile devices account for over 50% of paid search click.
Over 60 percent of users now choose mobile devices over PCs for local search.
Mobile Devices now account for over 6o percent of all online traffic.
If people can't leave the house without their phone in hand, make sure you're in their hand. Utilize social media to get the word out about new flavors, promotions, and events. Even use your new color scheme on your pages to drive your seasonal business. If you haven't already, make sure you:
Have social media pages. If not start them – Facebook, Instagram, Google +, Twitter, etc….
Updated your profile information – phone number, SUMMER HOURS, etc….
Have updated menu online
Post and promote regularly
Promote using pictures – more effective than text alone
Remember, as summer begins a lot of things end – this is when you really need to ramp up your game and use it to your advantage. Local sports seasons generally wind down toward the end of May and beginning of June. Offer to hold parties at your location for them, offer discounts and specials. Sponsor and build relationships for future seasons and teams. Obviously, school ends, which provides countless opportunities for your business to capitalize on the celebratory mood. There are so many different graduations nowadays that you don't just have to wait for the high schools. This is a perfect time for an ice cream cake in my book! Don't forget "First Day of Summer" promotions – free products – customer appreciation – to kick the season off right.
There are plenty of ways you can take advantage of the warm weather and the apparent extra time off your customers seem to have (especially the kids). Any community marketing events you have planned should be outdoors. Some ideas are Christmas in July, magicians and balloon animals, movie nights, and anything that basically brings your store outside. Don't forget to place as many chairs, tables, benches, etc. as you can outside your store – outdoor seating is a hot commodity! Provide daytime specials that will, in turn, drive early hour sales and keep those kids busy. Revisit any paid promotions you may have done. Direct mail pieces are a great way to reintroduce your store after your summer makeover is complete - don't just wait for the good weather and use that to drive business. And if you are a shore establishment, make sure your inventory is full, get as prepped as possible, and hold on for the wild ride that lies ahead….
Summertime is the peak sales season for the ice cream-frozen dessert industry. If you don't plan and prepare for it, you'll be sitting around in September wondering why sales weren't better. In this industry, not being ready for summer would be like a candy cane producer not being stocked for Christmastime. I let that sink in for a moment….
We've tried to help you prepare along the way with past blogs: Pre-Season Planning, Pt.1; Pre-Season Planning, Pt. 2; Grand Opening: Go Big or Go Home; and A Shore Thing. If you still have any questions or need any advice, please feel free to contact the frozen dessert specialists at Sentry Equipment.
We're here to help.
800.853.8026