Summer is in full swing. In case you need some inspiration or ideas for your store, we're sharing this great article from redri.com on the best sundae bar ideas.
original article: https://redtri.com/sweet-ice-cream-sundae-bar-ideas/amp/
Summer sun means ice cream fun! If you want an afternoon of deliciousness, you can't top an ice cream sundae bar. With creative cones, tasty toppings and whimsical decorations, it's enough to make anyone scream for ice cream. We've got the scoop on ice cream sundae bar ideas that include homemade sundae cups, magical menus and even homemade ice cream that you'll love.
Chocolate Chip Cookie Cups
Glass or plastic bowls are so last year, and that's why you need to whip a few of these homemade chocolate chip cookie cups from Spaceships and Laser Beams. The edible bowls are made with classic ingredients and shaped using a muffin tin. Get all the details and the full recipe here!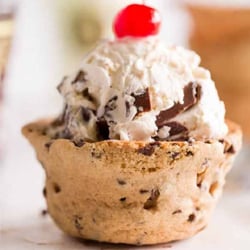 Mini Ice Cream Sandwich Pops
Store-bought sandwiches never looked so cute! These easy-to-make pops are perfect for little hands, easy to customize with any type of sprinkles and make a great option for a party for little ones. Get the easy instructions over at The Girl Inspired.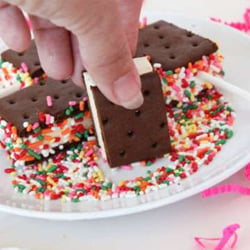 Ice Cream Sundae Nachos
What your ice cream sundae bar really needs is ... nachos! We give full props to Pumpkin 'n Spice for this genius idea of combining crunchy ice cream cones and sundae toppings in a completely new way. It's perfect for a crowd and a creative way to dig in! Learn more here.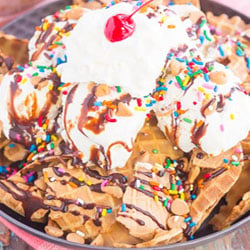 Homemade Magic Shell
Magic shell is always a sundae bar hit and you can whip up this two-ingredient recipe in just five minutes! The kids can even help make this topping—will it be white chocolate, semi-sweet, or milk? Get the recipe from Dinner at the Zoo.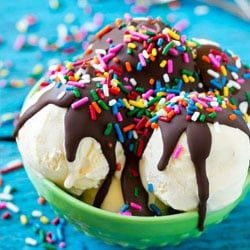 Butcher Table Toppings Party
This sundae party idea is a double scoop of useful: the butcher paper serves as toppings menu and protects your table, too! To learn more about this idea (plus how to make banana pops to go with your sundae!) visit Bakers Royale.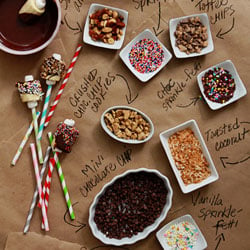 Sprinkle Spruce Up
Who can resist a fancy sprinkle-dipped ice cream cone? These handmade treats are a total wow factor but are actually easy to make. And they're the perfect way to make your sundae soirée extra special. Find out how to make your own from The View from Great Island.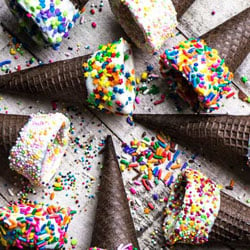 DIY Covers
If whipped cream is part of your sundae bar lineup, you've got to check out this cute idea from Boulder Locavore: canister cozies! This no-sew project upcycles patterned socks and the results look extra cute on your toppings table. Get the how-to here.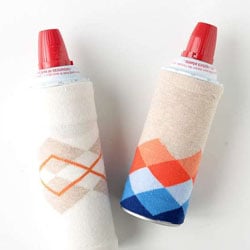 Fancy "Fried" Ice Cream Sundaes
You can't get more creative than "fried" ice cream sundaes! To get the crunchy, cinnamony goodness, all you need is a certain favorite cereal. Don't forget to layer your sundae for texture in every bite! Learn more over at Homemade in the Kitchen.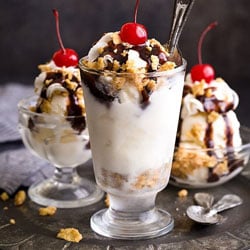 Prettify Your Cones
These printable ice cream cone wrappers from Alice & Lois give your sundae bar a pop of modern design and go great with colorful sprinkles! Grab your set of printables here.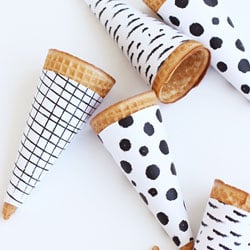 Serve Up a Spaghetti Sundae
Use your noodle and serve up spaghetti sundaes! To make this delicious trickery, you just need a potato ricer—then, guests can top their secret sundae with marinara (strawberry sauce) and Parmesan (white chocolate shavings)! Learn more from The Spruce Eats.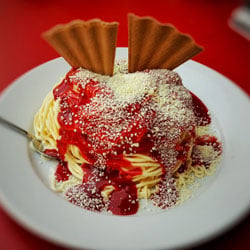 Tissue Paper Decor
If you want to go all-in on your sundae party theme, look no further than these tissue paper sundae decorations from Dimples and Tangles. These cheery faux sundaes are simple, cute, mess-free, and the perfect detail to sprinkle throughout your party. Get the instructions here.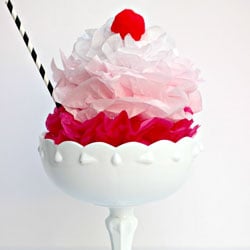 Unicorn Sundae Bar
Because every kid wants to eat a unicorn sundae, and probably every adult does, too! The best part about this amazing treat from Dawn at Cutefetti is her low-cal version that still has all the whimsy and the taste. Find out how she made them (and get a ton of other cute ideas) here.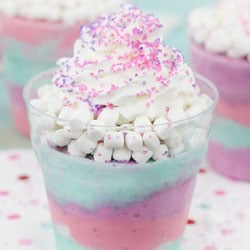 Serve Ice Cream in Mini Brownie Bowls
Because cones are so ordinary, right? Up your ice cream sundae bar game by opting for a super sweet bowl the gang can eat: these mini brownie bowls from Life Love Liz are perfect because you can serve them warm or cooled down, depending on how much time you have before you need them. Get the details on how she did it over at lifeloveliz.com.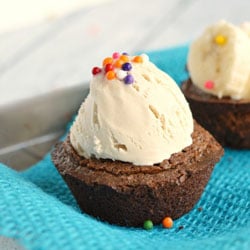 Banana Split in a Jar Bar
Around My Family Table's great idea combines all the best parts of a banana split into a cute mason jar, making it the perfect individual treat for kids. Layer up graham cracker crumbs, different types of ice cream, and fruit toppings for a dessert that really rocks. To check out the full recipe, click here.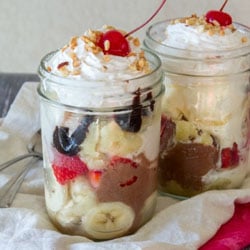 Italian Gelato Bar
Set up your mini gelateria right on the counter: you can buy gelato at the store but to make the gelato bar seem authentico, scoop it into the mini cups and garnish with a mini Italian flag. Be sure to have fresh fruit, mint and small cones or wafers for garnish, too.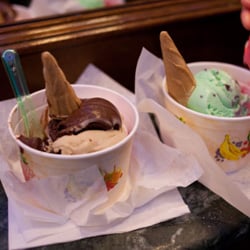 Simple & Chill
If you love the whole "ice cream bar" idea, but it seems a tad unrealistic to you, especially on a hot day, try a very simple method. Set out your cones and anything non-perishable in advance, then just before your party peoples are ready for their treats, keep the ice cream in its pints and set in a bowl of ice. Make tiny labels to make it look chic—they can have the flavors of the ice cream or just simple words, like "celebrate."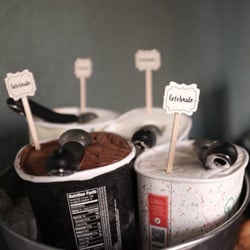 Classic Ice Cream Bar
This old-fashioned-themed sundae bar by event planner Pocket Full of Parties makes us as happy as a kid in an ice cream shop. The chalkboard, color scheme and vintage objects add to the charm, while the display of sauces and toppings is sweet and simple.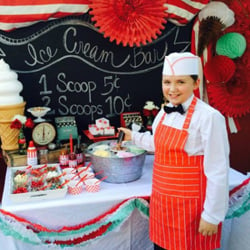 Rustic Charm
We love the casual, homespun feel of this sundae set up. The wooden spool table and a cart found at the flea market make a great showcase for the ice cream and toppings. The use of buckets, crates, chalkboards and mismatched dishes fit in perfectly, creating a cute and cohesive party style.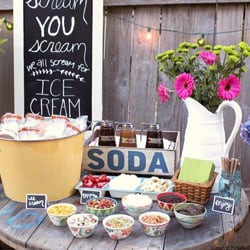 By The Jar
All those sprinkles, candies and cookie crumbs look extra appetizing in little glass jars, and it's a great way to store leftovers. We love the use of jars over on Baked Bree.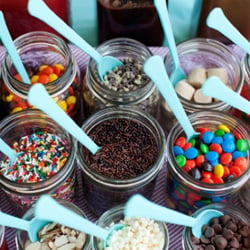 Popsicle Stick Solution
This idea is so simple, we're kicking ourselves for not already thinking of it. Use a marker and popsicle sticks to label your toppings. It's a quick and easy way to make your party look more pulled-together.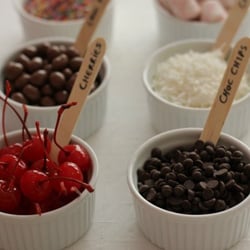 Cookies & Cream
What's more fun to eat than ice cream? An ice cream sandwich! Offer a selection of ice cream flavors, a variety of cookies, sprinkles and mini chocolate chips. Let guests choose their adventure! Find other delicious ice cream sandwich inspirations on Yellow Bliss Road.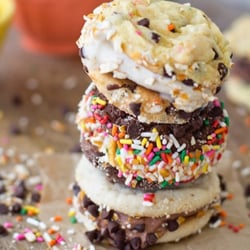 Just Add Soda
If you're looking for another twist on the ice cream theme, bring soda into the mix. There's an old-fashioned appeal to ice cream floats, and so many options available when it comes to glass bottles of soda. Kids and grownups will love trying out different flavor combinations. This colorful party has a great soda-filled setup.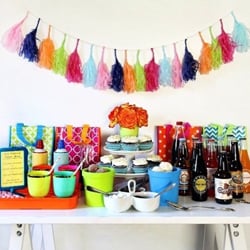 Go Belgian
Don't waffle around--you know your sundae bar would be extra special if it involved piling ice cream on top of warm, crispy waffles. If you don't have the time or energy to make your own, you can always grab your waffles from the freezer section and voila!