Are you ready to take your frozen dessert business to the next level?
Look no further! Sentry Equipment's 2023 Fall Open House is your golden ticket to success. This year, we're rolling out the red carpet with private appointments from October 14th through October 20th, 2023. Don't miss your chance to book a two-hour private session with our frozen dessert industry-leading experts.
What's in it for you? At Sentry Equipment's Fall Open House, we're all about giving back to our valued attendees:
Discounts Galore: Enjoy exclusive discounts on our top-of-the-line Electro Freeze Equipment.

Cash Incentives: Just for attending, all guests will receive a $150 Parts Credit and a $500 Equipment Credit. Now that's a sweet deal!

The Ultimate Prize: Want to blend your way to success? Attendees will also have the chance to win an Arctic Swirl Blender.
Learn from the Best
During your private appointment, you'll get an up-close look at our equipment in action. Whether you're interested in:
Business consultations for creating profit centers.

Marketing strategies and advertising tips.

Staying ahead of trends in flavors and novelty production.

Mastering the art of ice cream, gelato, and soft-serve production.

Participating in hands-on equipment demonstrations.

Elevating your offerings with soft serve, milkshake, slush, or adult beverage production.

Our industry experts will provide one-on-one consultations to impart valuable insights and insider knowledge.

Supercharge Your Business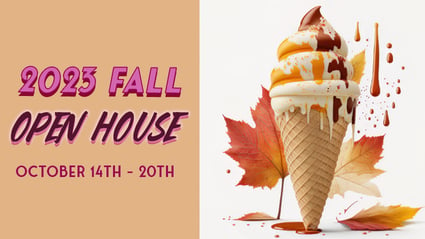 But that's not all – we're here to help you thrive:


Equipment Discounts: Seize unbeatable deals on premium equipment and receive a $500 Equipment credit just for attending.
Parts Credits: Enhance efficiency and save big with exclusive parts specials and credits.
Future-Proofing: Lock in 2023 pricing on equipment now and schedule delivery in 2024 when you're ready.

Unleash Your Potential

This event is not just about business; it's about building relationships. Explore opportunities with local suppliers and vendors who can bolster your business. Most importantly, we want to get to know you and your aspirations. Whether you seek fresh ideas, plan to expand your product range or dream of launching a brand-new venture, our experts will help you evaluate opportunities and profits.

Success starts here! Join us at Sentry Equipment's 2023 Fall Open House and pave the way for a brighter, more prosperous future in the frozen dessert industry. Book your private appointment today, and let's make your dreams a reality.