If you read any of our blogs or watch any of our videos then you know we're all about educating business owners on the upsides of creating your own novelty items or line to sell in your store. Novelty items create huge opportunities to contribute to increased profits every season.
Ice cream sales overall last year grew by just .2%. But the novelty ice cream niche grew 4.2% overall. You can tell by these numbers that the trend in ice cream sales leans toward homemade novelty products as opposed to mass produced products. Additionally, two-thirds of ice cream sales are from take home novelty products. That means if you're simply relying on over the counter and eat in customers, you're missing out on opportunities.
Creating Novelty Ice Cream Products
Before you start creating and selling novelty items in your store, you'll first need to do a bit of research to determine what type of novelty item(s) you can sell in your store. There are a lot of different products that you can look into creating for your customers including, ice cream sandwiches, ice cream cakes or cookies, pints, quartz, pies and popsicles. If you're making your own ice cream on site then it is possible to potentially do it all. However, to maximize your efforts and profits, it's best to focus on just 2-3 items at a time that fit within your concept and store culture. Trying to do too much, too broadly, too fast could potentially lower the quality of the product because it becomes overwhelming. Focus on just a few items first, nail them down and build a customer base. Once your product and process is in place and you have a following, you can then expand out to include other novelty items.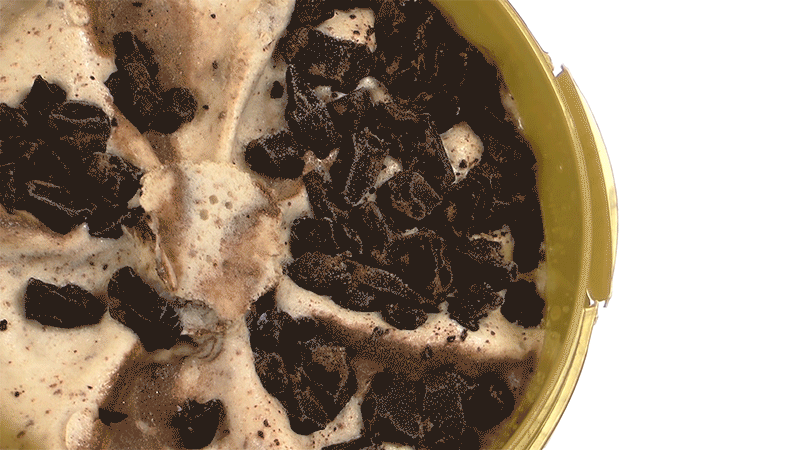 Pints and quarts are a great place to start. Just take a look at your local supermarket. Five years ago, the freezer aisle was filled with half gallons of every brand. Now pints have taken over and half gallons have been reduced to 54 ounces or less. Amazingly consumers can purchase these "half gallons" for $3-$4 but, instead they are buying pints for $5 -$6. Paying more for less? With a well marketed novelty program, that is absolutely what your customers' will do.
With novelty products you're creating a take home product for the customer to enjoy when they are...essentially at home or not in your store. They are getting ready to cook dinner one night and open the freezer and – POOF! – there is your ice cream sandwich or pint. Your logo sits upon the packaging and your customers is reminded what a great brand you have. Not only will they enjoy your treat after dinner, but now you are top of mind with that consumer.
Take home products can potentially sell for four to seven times the amount a single ice cream cone sells for. This means you could increase your sales/profits exponentially every season. What's more, holidays that land throughout the year offers more opportunities to push these products. Almost every month you could be creating special novelty items that match up with the holiday. Whether that holiday is Christmas, St. Patrick's Day, 4th of July or Halloween, there's opportunity to be creative and fun with the products. Doing this will also help build your brand and give you a little marketing boost as well, especially if you created packaging with your branding on it. Creativity helps separate your brand. Separation creates sales. Sales create happiness!
Last but not least is putting your novelty products on display and marketing the product. The last thing you want to do is to go through all the trouble of creating and producing the product but fail in the display and marketing of the product. Make sure you have the proper display case set up within your store if you want customers to be able to purchase products and take them home. This is extremely important. You do not have to be a walk in operation to display. Point of sale and point of purchase materials can help show your customers what you have without them necessarily walking into your store. If you do have a walk in location, sky is the limit. But remember, display your novelties in an area that is conducive to sales not convenient for space. Additionally, market your unique product through social media or other means to make sure people know about it. Use visual sites such as instagram and facebook to promote and include pictures of actual customers enjoying your offerings.
Helping our customers create and set up a novelty program is one of our strengths at Sentry Equipment. If you're thinking about it or have any questions about creating your own novelty products then contact us and we'll be happy to help.